– minister of business tells visiting Canadian delegation
CITING Guyana as a reputable business destination, Minister of Business Gaskin said the nation welcomes partnerships with reputable entities, even as he noted that the country is not a "free for all."
He made the remarks on Monday night at a reception hosted at the home of Canadian High Commissioner to Guyana, Lilian Chatterjee, in Bel Air, Georgetown.The reception was in honour of a visiting Canadian delegation from the Province of Newfoundland and Labrador.
Several government officials, Minister of Natural Resources of Newfoundland and Labrador, Siobhan Coady and members of the private sector attended the event;it provided members of the visiting delegation with an opportunity to interact with locals.
Minister Gaskin told the gathering that the government is working to ensure that the expectations of the population pertaining to the oil-and-gas sector, are met.
"We don't want foreign companies to come to Guyana believing that this is a free for all and that our entire country can be bought," he said, and assured the visitors that Guyana is a clean, secure and profitable place to do business.
He said too, that the government welcomes partnerships with reputable agents, since it values deeply, their experience.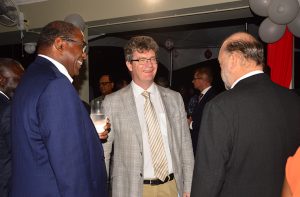 The Canadian High Commissioner said that Canada's commercial relationship with Guyana is growing, and will continue to grow; she noted that the two are natural partners who share similar values. She added that Canada has been Guyana's partner "before and after independence", and that her country stands ready to assist Guyana and to strengthen ties between the two nations.
Dr Mark Bynoe, Head of the Department of Energy, pointed to Canada's assistance to Guyana in various areas of development. He said that Guyana is finally moving towards unleashing its potential–one which is not for the faint-hearted.
Dr Bynoe said the department will continue to seek ways to streamline operations which will occur within the oil-and-gas sector, and which he noted are essential for private sector partners. He encouraged the visiting delegation to continue their engagement with locals for the benefit of all, as he noted that such should be done with balance and transparency.
Minister Coady told the gathering that her team includes knowledgeable and experienced persons and that there are many expectations from the ongoing visit. During the reception, it was noted that two Guyanese companies, Action Coach and Global Technology have established relations with Canadian firms NSV Energy and Rogers Enterprise.
Recently, Guyana presented world-class, deep-water petroleum prospects, which offer business opportunities that align with Newfoundland and Labrador's petroleum expertise and experience.
According to the Canadian High Commissioner, the development of potential partnerships between the two jurisdictions, could serve to build strong business relationships, transfer technology and skills development to support the growth of Guyana's offshore oil-and-gas industry.