The Yolander Persaud story
ONE Guyanese woman continues to win at life by making all the right moves. Attorney-at-Law Yolander Persaud was last week elected to the Ethics Committee of FIDE: World Chess Federation.
Persaud, the Vice President of the Guyana Chess Federation and a member of the first female team for Guyana at the Olympiad in Baku, Azerbaijan in 2014, will serve for four years.
The five-member panel, which will be chaired by well-known South African lawyer, Mr. Francois Strydom, runs from 2018-2022.
The other members are Ms. Ruth Harring from the USA, Mr. Rajesh Joshi from Nepal and another delegate from India.
"This is an incredible achievement for Guyana! We have never been appointed to any of FIDE's commissions in the past, much less one of the most vital ones," Persaud told the Pepperpot Magazine. "I am still in a bit of shock, but really I am elated to put my country and federation on the map and to act in a position which blends my passion for chess and law. I am hopeful that my appointment encourages more females to take a more active role in chess and sports in general, not only to play and participate but to actively pursue leadership roles. That is the only way we can achieve equality and balance."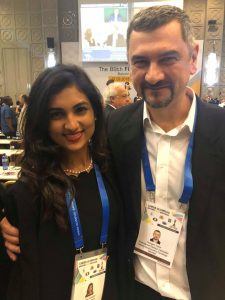 Persaud said that she has been playing chess since she was a child, but became involved in the administrative aspect of the game only a few years ago after wanting to see the game develop more in Guyana, especially women's chess. "We had our first female team participate in the Olympiad in Baku two years ago, which I was a member of," she said. Persaud is a Chevening 2018/19 Scholar pursuing a Masters in Oil and Gas Law with Professional Skills at the University of Aberdeen, Scotland.
"I was initially selected as a member of the female team to play in Batumi. However, after I received my Chevening Scholarship award I decided to withdraw as I would not have been able to be present for all 11 rounds of the Olympiad," she said.
The Professionally Accredited Corporate Secretary continued, "The allure of the Olympiad was too hard to resist however, and I decided to attend Congress and General Assembly for one week instead, as the councillor to our delegate."
She said she observed the Ethics Commission, the Development Commission and the Online Commission during her time there, and also attended the first day of General Assembly where the 185-member federation elected a new President for FIDE, Mr Arkady Dvorkovich.
Persaud, also a Certified Anti-Money Laundering Specialist contended, "The work of the Ethics Commission was most appealing to me as an attorney-at-law since it was of a highly legal nature. The Ethics Commission of FIDE essentially hears complaints from member federations on procedural and ethical issues, and makes decisions upon the matters brought before it."
She is also a Director and Secretary of the American Chamber of Commerce Guyana as well as a FIDE Arbiter, Developmental Instruction.