– With screenings for early detection
BIBI Hassan, founder of the Guyana Cancer Foundation (GCF), feels her purpose in life is to help others, especially women who are in the low-income bracket; and who are under-insured and medically underserved.
Thirteen years ago, she was selected to be treasurer to the Avon Community Health Fund and did lots of work raising funds to assist the public with breast cancer screening and such like.
Being involved helped Hassan develop a passion for such work and after the 'Avon Fund' was dissolved, she took up an opportunity to continue such efforts. The Chief Executive Officer (CEO) of that fund offered to assist Hassan in continuing the work because Hassan's passion and devotion to such efforts were clearly evident.
The GCF was eventually registered under the Company Act in 2016 as a non-governmental organisation (NGO). With the help of corporate sponsors who came on board, Hassan was able to start her work.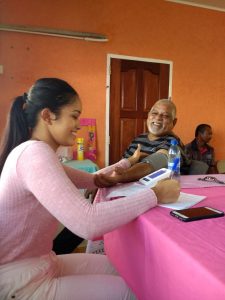 Despite holding down a full-time job in sales, Hassan decided to scale down so that she could devote more time to the GCF. "As an advocate, God gave me this passion and this vision to help women….in fact, the general population," she told the Pepperpot Magazine in a recent interview at the GCF on Sheriff Street.
The GCF provides free screenings. It has also started to screen for prostate cancer recently. "We're the prevention people. We believe that early detection helps save lives so we focus on getting women screened for early detection. So our organisation is not in a position to pay for people's surgeries, but what we can do is help them get screening," Hassan explained.
The GCF does referrals to the Oncology Department of the Georgetown Public Hospital Corporation (GPHC). "That's always my first choice but I would ask the patient what their choice is."
While the GFC does not actually do the screenings, the organisation pays for them at the
Cancer Institute with the funds garnered through sponsorship.  The GCF's major sponsor at the moment is the Guyana Telephone and Telegraph Company Limited (GT&T). "I'd like to thank GT&T from the bottom of my heart because everything I have visualised I have managed to accomplish."
For this year, so far, Hassan, who was also the caretaker of her breast cancer survivor mother, Ameena Hassan, said the GCF has been able to touch more than 3,000 lives. Apart from those who choose to visit the foundation, the GCF also does outreaches to various communities to be able to find those persons who are in need.
Just recently, the GCF was able to visit Moraikobai, Berbice, Parfaite Harmonie, Enmore Estate, La Bonne Intention, and Garden of Eden. At one of the recent medical outreaches, over 400 persons turned up for help.
Those in need of help can visit the GCF. "Come in and talk to me and I'll see how best I can help. I don't turn away anyone," Hassan said. Her opening hours are from 11:00hrs to 17:30hrs, Monday to Friday, while the Saturdays are reserved for community outreaches.
"It's a good feeling to be able to help others. I wish I can do more. I'm in it to end it. I'm dedicated to it; to stop it before it starts," Hassan expressed.
She recalled one instance lately where a young woman who could not afford a screening was able to be helped by the GCF.
"A woman called from Berbice. I didn't even know her. Was crying because she was getting green stuff from her breast and different colour discharges. I called the Cancer Institute and she was immediately screened. She had bacteria in her breast, but she is ok now. It is these little experiences that bring me satisfaction; helping someone who cannot afford to pay," Hassan said.