ANTIGUA and Barbuda retained their World Council of Domino Federation Championship title, when the curtain came down on the 18th edition of the biennial tournament last evening at the Carifesta Sports Complex. Barbados copped second place overall, while St Lucia were third.
Antigua's Joan Davis won the 'Queen Domino', while Joseph McCarthy of Anguilla won the male equivalent.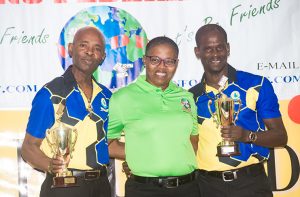 The Antiguans also won the Mixed Pairs (Jason kings and Elizabeth Mathews) and Barbados took home both the Male Pairs (Charles Proverbs and Decourtney Estwick) and Female Pairs (Winifred Harbin-Jones and Sharon Lynch), as well as the being named the four-hand champions.
Antigua and Barbuda won the male three-hand and the USA won in the female category.
Guyana Oil Company, Demerara Distillers Ltd under their El Dorado brand and Ministry of Social Cohesion Department of Culture, Youth and Sport are the tournament sponsors.