– Prime Minister Moses Nagamootoo urges Berbicians
PRIME Minister, Moses Nagamootoo has called on Berbicians to come out in full numbers on November 12 to elect "fit and proper" candidates to represent them.
The prime minister offered the encouragement in the presence of his Region Six representative Gobin Harbhajan, Public Security Minister, Khemraj Ramjattan and others during a visit to his hometown Whim on Saturday.
In a fired-up speech that was received with resounding applause, Nagamootoo appealed to the masses to ensure those whom they elect are people who have the interest of the community at heart.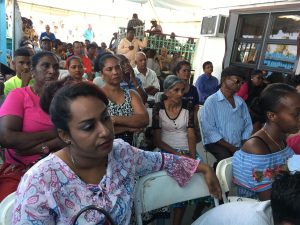 "I am here to tell you, I am a no-nonsense man, I want you to change
the NDC that is doing nothing for the people in their own villages. If you find your councillors are not doing anything for you replace them!
You have the power in your hands to replace them, put new leaders, put people with energy, people with commitment, people  with dedication people who will look after you and look at your back not those who help themselves…. change the NDCs that are doing nothing for people in the villages! If you find the councillors are doing nothing, change
them!"
He added that his visit is not a political one and residents have to elect candidates who will put their best foot forward for the betterment for their community.
"This is not the time for help-self, this is a time for self-help and we want leaders who can come forward and volunteer and do the work.  I am not here on a political partisan crusade; I am not asking you to put candidates for the AFC, APNU or the PPP, I am asking you to put fit and proper candidates! Whoever is fit and proper must represent you," he said.
He stated that while the Coalition Government has made changes and has
done a big part by giving the power to the people to change their circumstances through Local Government Elections, the government needs the help of the people at the grassroot level to help develop their own communities and find and implement solutions to issues that are affecting them.
On that note, he urged everyone to play their role in choosing thebest candidates.
"The people are now in control of their villages and they have elected their own leaders and they have to ensure their leaders make demands for the things they need, so look around you, look into your communities for those people who are dedicated, who show interest in your affairs because this revolution in Guyana is not going to be a top-up revolution but a revolution from the bottom up. You will have to change your society from your communities."
The prime minster was, at the time, returning from a visit to the co-generation plant at Skeldon Estate where he was given a tour of the facility and details about its capacity and potential in alleviating some of the power issues that has been plaguing citizens across Guyana.