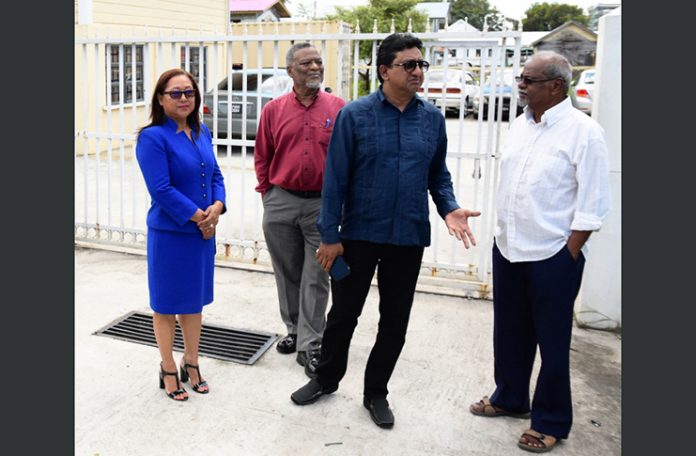 Former Prime Minister, Samuel Hinds along with several other former government officials on Wednesday afternoon appeared before the Special Organised Crimes Unit(SOCU) for questioning.
Hinds was accompanied by Former Minister of Local Government Kellawan Lall, Former Minister of Amerindian Affairs , Pauline Sukhai , Former Minister of Health Dr Bheri Ramsarran on Wednesday afternoon.
Opposition Leader, Bharrat Jagdeo, Former Cabinet Secretary, Dr Roger Luncheon, Opposition Chief Whip, Gail Teixiera and Former Minister of Home Affairs, Clement Rohee also received calls from SOCU for questioning.
Opposition Member of Parliament, Anil Nandlall told reporters prior to the meeting with SOCU on Wednesday afternoon that "as far as we are aware" certain members of the Peoples Progressive Party (PPP) Cabinet who attended a particular meeting in March 2010 have been invited by SOCU for questioning.
Nandlall was making an appearance as an attorney since he was not a government minister at the time.
Earlier on Wednesday former ministers of government, Manzoor Nadir and Robeson Benn were grilled by SOCU.
Speaking to another media entity, Former Minister of Education Priya Manickchand said: "It appears that SOCU has again began to call all the ministers of the former administration- the PPP/C government- to continue with the puppy show they are going on with." Manickchand was appeared as an attorney on Thursday.
The Guyana Chronicle reported recently that charges are expected to be instituted against persons fingered in the Sparendaam Housing Project AKA Pradoville Two, land scam, according to a well-placed source.
The Guyana Chronicle understands that investigations into the housing project are near completion, and that charges could be laid soon.
The investigations are based on a Forensic Audit which found that several persons close to the last government had received prime seafront property belonging to the state at extraordinarily low cost.