WHILE there are quite a number of local creative talent daunted by Guyana's failure to create the opportunities for success in their various fields, there are a few who are consistent, hopeful and full of drive, despite the odds.
Gavin Mendonca is the epitome of commitment and dedication to his craft. This 26-year-old rock musician who has his own unique style and image has surely proven that success is dependent on the individual. Year after year, he continues to strive for greatness and stretch for greater opportunities and achievements.
Back in June, Gavin launched a short film titled 'How to Build a Tree House' at the Timehri Film Festival. This video not only showcased his exceptional talent, but also Guyana's beauty.
This 10-minute film started out as a regular music video and ended up being an experiment, Gavin told the Buzz. "I was on a trip to the Kaieteur Falls, myself and [videographer] Ziggy Denheart, to shoot a music video for my song. We spent like two nights there capturing amazing scenes. When we came back, Ziggy and I saw that we had so much footage that we thought we could experiment and make it a short film. And as the project developed, tying into the storyline, we realized we had a chance at contributing to cultural preservation," Gavin said.
He added that since Kaieteur Falls is synonymous with the Patamona people, they decided to include some Patamona folklore and language into the film.
In giving a synopsis of the film, Gavin explained that the concept is "a coast lander sitting on the seawall playing his guitar with his eyes closed, and hears this voice in Patamona. When he opens his eyes, he is no longer sitting on the seawall, but is in the jungle and has a sense of a familiar place. He begins his journey in this jungle that seems familiar but yet strange. Ideally, the story is a journey to the top of the world, literally, the Kaieteur Falls, but also symbolically, the top of the world being the moment of accomplishing your dreams and your true potential."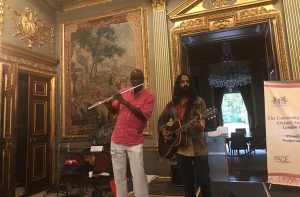 Gavin said that the man represented a coast lander since many coast landers in Guyana when they think about going on a vacation or break, they always tend to go out, rather than within. So the journey of the man in the film is symbolic to a journey within, literally within our country and a journey within ourselves to rediscover true identity of what being Guyanese is all about.
He believes that his career has taken a significant step up since its production. Given that he is the first Guyanese artiste to do a full video at Kaieteur Falls, incorporating the story of Kaieteur Falls and its environs- including the native flora and fauna, such as the sound of the famous Golden Frog which is weaved into the score of the video.
Gavin's hope for 'How to build a Tree House' is to contribute to cultural awareness and reclaiming cultural identity while also promoting tourism, both international and domestic. Thus far, Gavin said that the after effects of the film are beyond his expectations. Sharing that he had the opportunity to attend the World Of Music Arts and Dance (WOMAD) festival in the United Kingdom from July 26th to 29th. His participation in the festival created several opportunities for the screening of his short film.
"My experience at WOMAD was mind-blowing. It was like I was in this bubble bursting with positivity with people from India, Senegal, Morocco, Spain, Uganda, Brazil, all over the world. It made me realise how much in a box we Guyanese are. But I got the opportunity to do a few screenings in the UK and it has been selected as an official feature at this year's Caribbean Tales International Film Festival in Toronto, so that will be my Canadian premiere. But before that, I will be doing a screening in Florida at Full Sail University for an audience of international students," Gavin expressed.
He added that he kind of accomplished the goal of getting his film on the international stage since it would have been screened in the UK, and will in the next two weeks be screened in Florida and Canada. He hopes to have it screened at more international and Caribbean Film Festivals in the months and years to come, so people will see the Kaieteur Falls and become aware of not only his music but Guyana's beauty.
The video of how to build a tree house was sponsored and supported by the Department of Culture, Ministry of Cohesion, Department of Tourism, Ministry of Business, Ricks and Sari and Eco Atlantic Investments.
Gavin would like to thank his sponsors who have helped make his journey to the UK a reality: Sankar's Auto Works, Readymix Concrete Ltd., RAMPS Logistics, Ministry of Public Telecommunications, Chetson's Ltd., Zoon Inc., DPI, The Courtyard, Oasis Cafe and Ticketmaster Travel Agency