By Gibron Rahim
PREGNANCY is a time of challenges and blessings. Social support is undoubtedly crucial to the wellbeing of both mother and baby throughout the process. There has been a revival in recent times of an age-old role to strengthen the support systems of expectant mothers. The person who fulfils this role is called a doula.
Nise-Akosua Oduyefo is a doula. She explained to the Pepperpot Magazine, "A doula is basically a supportive person during delivery, supportive to the mother, supportive to the father and the entire family." She related that doulas give advice, prenatal training (in a sense) and essentially provide any form of support that a mother needs before and after delivery.
A doula's duties vary according to the needs of each client. Nise-Akosua's most recent client desired prenatal yoga. This, she said, would last throughout the different stages of pregnancy. Prenatal yoga practice incorporates different types of postures and positions that are comfortable for someone who has extra weight in the front but needs to stretch their back and other areas of the body. "Especially with smaller body frames, women tend to need physical support when doing certain stretches," said Nise-Akosua.
In addition to being a supporting factor in her client's prenatal yoga practice, Nise-Akosua helped her to prepare nutritious meals or checked in with her when she was not present. She explained that the overall goal is to make the client's life easier. This is especially important given all the changes the body experiences during pregnancy and especially for first-time mothers. Particularly in cases where clients might not have internet access or simply do not have answers to their questions, "My role is to get the answers to those questions," said Nise-Akosua.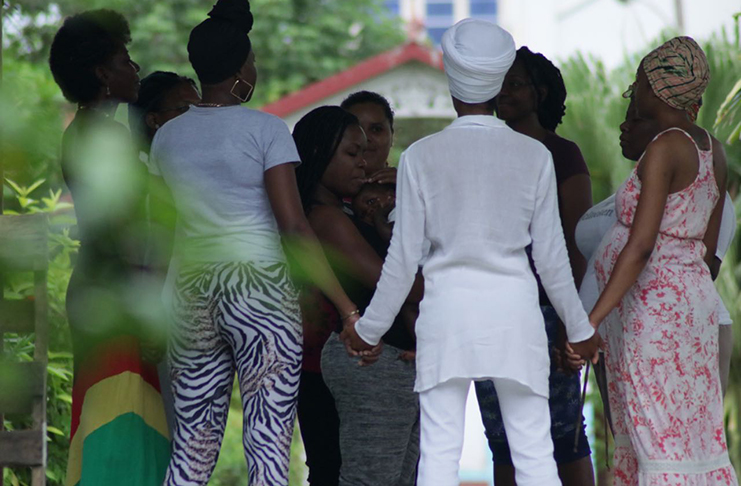 ODUYEFO
Nise-Akosua's role as a doula is a part of her rites of passage as an oduyefo or "medicine-maker". "As that rite of passage was revealed to me I knew that my purpose was to aid in creating a medicine, in a sense, for us as a people" she explained. "And medicine I realised doesn't always come in the form of a pill or a plant, it could be whatever is good for the soul." She noted that the role of oduyefo has guided her and given her purpose and perspective. Indeed, Oduyefo is Nise-Akosua and her partner SA-RA Yáwóada's family and union name. "This is us carrying on the legacy of our ancestors, to be healers."
VILLAGE EFFORT
The concept of a doula has a historical basis. Nise-Akosua related that communities have historically, especially in Africa, been built around the concept of "it takes a village". "The concept was that if there's one person going through something, the whole village is going through it," she explained. Caring for mother and baby throughout pregnancy and during childbirth was the responsibility of the entire community. "Everyone wants to make sure that this child is happy, healthy and comes out with a destination and a purpose in life," noted Nise-Akosua. "That's what inspired me, that part of the history, knowing that that's how our culture used to do it."
The catalyst for Nise-Akosua's path as a doula was her and her partner's own family planning for the future. "We're very simple and natural with our choices of how we're living our life," she explained. Nise-Akosua quickly realised the value of sharing the knowledge she and SA-RA Yáwóada had gained. The knowledge they had gained strengthened their determination to deliver their future children in the smartest and most logical way. "And being that we're not ready for our family yet we want to help other people to bring forth their family," said Nise-Akosua.
SKILLS OF THE DOULA
Stepping into the role of doula meant that Nise-Akosua had to learn numerous new skills. However, she noted that much of the knowledge is common sense and is based on empathy, compassion and consideration for others. Essentially, "How you'd want to be treated in this chapter of your life, you give that [same treatment] to the person," she said.
Nise-Akosua has had to research extensively to find knowledge to help her clients with all the issues they have brought to her attention. "We found hundreds of alternatives to what they may prescribe in a regular hospital," she related. She noted that sometimes the medical advice mothers receive from health care professionals are contradictory and incorrect. "A lot of the time the mothers have to go off on instinct, they can't just take what the doctor or the nurse says," she said. "It has to be what they feel." She noted that some physicians, unfortunately, do not listen to their patients and this leads to a disconnect between medical recommendations and the actual symptoms experienced by patients.
Nise-Akosua's clients have usually already decided to choose a more natural pregnancy and childbirth. "Some of them may still want to give birth in a hospital and that's the role of a doula – to aid the mother in whatever her choice is," she made clear. The determination is the individual client's to make. "My position is to also to share the knowledge and show the contrast between the two different options."
EMBRACING AFRICAN HERITAGE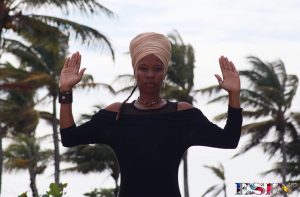 Fulfilling her purpose as a doula has brought Nise-Akosua closer to her African heritage. She said, "As an African woman I realise, in society, you can fall into the norm and, with falling into the norm, you can lose yourself." She related that she had found herself experiencing that kind of dissociation from self at one point in her life. She did not know her next step even though she had all the things that people would consider accomplishments. "I didn't feel satisfied and the main thing I knew I was missing was my roots and my culture."
The African practices and lifestyles she learned from study resonated with Nise-Akosua and she found herself drawing ever closer to her roots and her culture. "That's what made it much easier for me to share this as my work and my service," she said, "because it's something that I know I would have needed if I didn't choose this path for myself." She emphasised the importance of fulfilling observed needs in the community. "If your community doesn't have something that you find important, you provide it to your community and all the blessings and rewards will flow in because of that."
The role of doula is one of many ways that Nise-Akosua and SA-RA Yáwóada stay connected to their African heritage. One of the important ways for Nise-Akosua is by wearing her crown that she creates by wrapping her head every time she leaves the house which she says signifies knowledge and wealth and acts as a form of protection. They have also turned their lifestyle into their businesses. SA-RA Yáwóada Oduyefo I is the founder of YogaSthenics which combines smai tawi (an African form of yoga) with calisthenics. The couple own the clothing brand Wrap Century with the aim of empowering everyone to crown themselves and wear headwraps as they see fit.
A division of YogaSthenics is Nise-Akosua's company ESIN which she said focuses on "all women's holistic healing and wellness". One of ESIN's main focuses is sacred womb gatherings. "At these gatherings women come together," said Nise-Akosua. "We do kemetic yoga, we talk about life, we talk about nutrition." The gatherings give women the opportunity to talk about lifestyle aspects that they might not be able to talk about with female friends or relatives. "[It's] just someplace more sacred and less biased that you could just come to and vibe."
These sacred womb gatherings take place every last Sunday of the month from 16:00hrs to 18:00hrs in the Promenade Gardens and Nise-Akosua said that they have been well received by women. "Women come just to be at peace and they notice that they can go home and do these things and feel more connected to themselves which, of course, makes you feel more connected to your culture and whatever came before you."