LOCAL Rock Musician, Gavin Mendonca, will be embarking on a journey to the UK soon to attend a few festivals, including the 'World of Music, Arts and Dance' (WOMAD). He sees it as a grand opportunity to network, expand his unique 'Creole Rock' brand and learn as much as he can from the experience – which he can then bring home to Guyana. New doors should be opened up for Gavin, and for his colleagues, as he hunts down opportunities for Guyanese music and culture to be heard and experienced, around the world.
Last year, Gavin would have travelled to Colombia to attend 'CirculArt' where he represented Guyana and the Rupununi Music and Arts Festival. He has since also travelled to Suriname, Dominican Republic and Trinidad for performances.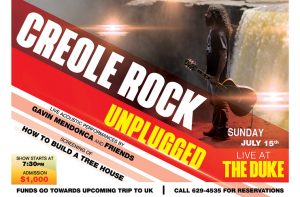 In one last fundraising effort – Gavin will be hosting a concert this Sunday: 'Creole Rock: Unplugged' – live and acoustic at 'The Duke'. The Duke, which serves as a restaurant and Art Gallery, has created a platform for local entertainers and artists to hone their craft, build their fan base, earn an income and develop their careers.
Along with his live performance – Gavin will be screening his recent short film 'How to build a Tree House' which was produced by Derrick 'Ziggy' Denhart, filmed at Kaieteur Falls and includes the use of Patamona Folklore and Language.
The show starts at 19:30 hrs, admission $1,000 with limited seating available.
Gavin would like to thank his sponsors who have helped make his journey to the UK a reality: Sankar's Auto Works, Readymix Concrete Ltd., RAMPS Logistics, Ministry of Public Telecommunications, Chetson's Ltd., Zoon Inc., The Courtyard, Oasis Cafe and Ticketmaster Travel Agency.