…police release suspect on self-bail
TWO security guards have been released on self-bail after one of them allegedly pointed a shotgun at Minister within the Ministry of Natural Resources Minister Simona Broomes while she and her driver were parked at Massey Parking Lot Providence, East Bank Demerara Sunday evening.
Police said the minister was aggressive to the guard. The Massey building houses a supermarket and the New Thriving restaurant. Reports indicate that the minister was also threatened by the 53-year-old security guard who was armed with a shotgun.
Security sources revealed that Minister Broomes alleges that she and her driver went to New Thriving to purchase food when the driver parked the vehicle and the two security guards went up to them and became abusive. Broomes at this point identified herself to them but they continued and that is when the guard cocked his shotgun and pointed it at her.
Police were summoned and the two security guards were arrested and the shotgun seized and placed in custody. Police are investigating the confrontation as CCTV footage at Massey Parking is to be reviewed. The security guards were later released on their own recognisance and police confirmed that initial enquiries revealed that both parties seemed to have been very aggressive.
Meanwhile, in an interview with the Guyana Chronicle Minister Broomes related that on Sunday at around 20:00h she was in the company of her driver and another staff, when they attempted to park in Massey's compound. They were there to utilise the services of a restaurant in the same area, when they were approached by two guards, one of whom had a gun. According to the minister, the men were very abusive, and though she introduced herself as a minister of government, the armed guard not only continued to use expletives but cocked his gun in her presence. She called the police, and they turned up some time after. "At this time the matter is with the police. I was going to visit a restaurant, it's a parking area, so there was nothing that I was doing that was of any threat. I would want to wait for the police…I want to wait on the completion of the police investigation. It is really really unfortunate and regrettable, and in this case, I am not seeing this matter as a Minister of Government or a person of the State, I am saying that as a citizen of Guyana, somebody come for parking, going into a restaurant, I don't know who the persons were, I was not going to a supermarket, it was after 8pm."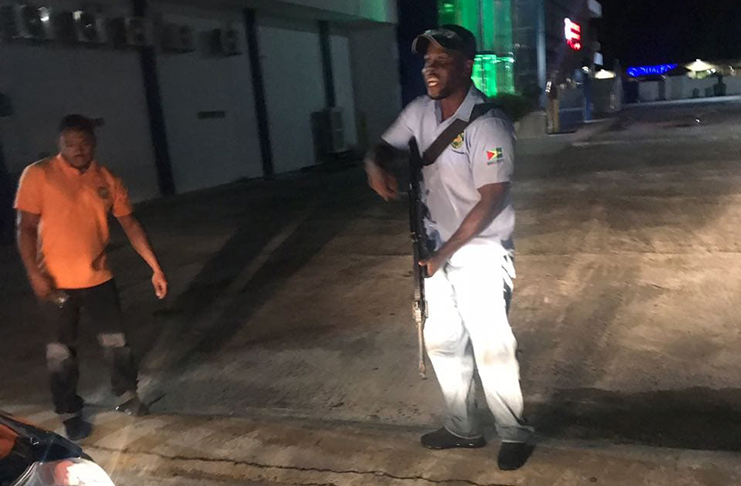 Broomes said she had visited the restaurant before and used the said parking lot. "So it is not the first time that is why I was surprised. I got into the restaurant and I asked the staff if that was a new system, and they themselves don't know who were the persons because the men were not connected to the restaurant," Broomes related. She said one of the staff of the restaurant also apologised to her.
"I was not abusive…Since I took office I really continue to humble myself to serve the people of this country. I have seen how because of the Government our posture is different." "I want to say to the Guyanese public that I was no threat or anything at all, it is just regrettable. I am really saddened and taken aback by it. It was uncalled for."
Asked about the police statement which said that both parties were aggressive, Broomes said the Guyana Police Force did not solicit a comment from her on what really happened. She said based on reliable information received the Divisional Commander does not know who issued orders for the two guards to be released. She said too that she was reliably informed that when the gun, which was cocked in her presence, was checked at the police station it had a bullet in the breach. "I believe that I am being targeted," she said while noting that prior to last night's incident she received death threats in recent times. "I feel disrespected as a woman, as a citizen of Guyana, and I feel targeted," she added.