THE Eureka Medical Laboratories (EML) on Tuesday launched its new Fast Track Services aimed at speeding up phlebotomy service delivery and targeting busy clients.
The launching took place at EML's office on Thomas Street, North Cummingsburg, and saw remarks coming from First Lady Sandra Granger; Minister of Public Health Volda Lawrence; and EML's CEO William Boyle.
The Fast Track Services has been fashioned to ensure minimal delay through the elimination of long queues, and for the benefit of on-the-go business persons such as executives and government officials.
Extended services are offered from 07:00hrs to 22:00hrs daily, except on Sundays, and with the promise of top-notch security services and privacy.
Delivering the feature address, Minister Lawrence said that the work of EML coincides with the ministry's health vision to ensure Guyanese become more health conscious and the healthiest in the Caribbean.
She stated than many of today's diseases are avoidable should more persons engage in timely check-ups with their doctors, an activity which the new Fast Track Services will help to support.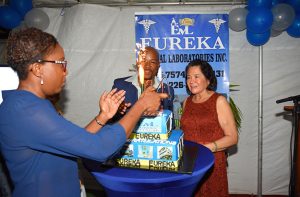 Lawrence acknowledged that a healthy nation is crucial to the sustainability of the economy and, as such, commended Boyle and his staff for the high class service provision at the laboratory. "Fast Track is sending another message to all of us, irrespective of who you are or what job you do, that your health is important…they recognised that there is a need for faster, smoother and efficient service in order to keep all of us on track in a healthy way," she said, later adding: "The Ministry of Public Health is appreciative of your efforts to reach our public more than halfway by offering this health service."
Boyle thanked his team, the stakeholders and clients for the unwavering support demonstrated over the years and urged that the standards at EML continue to improve to international levels.
He indicated that with a small additional fee, members of the public will be able to utilise the new service which will see a convergence of data, payment and sample collections being completed by one technician. This simple structure, he explained, will allow for greater efficiency and timeliness when it to comes to clients who work in hectic fields.
Boyle revealed that a recent partnership with the oil industry has allowed for the laboratory to embark on a new venture, of providing Eureka Atlantic Offshore Medical Services (EAOMS) to the upcoming petroleum sector.
"We are going to be providing occupational health and services to the oil industry and, of course, to others as well. This entity will afford Guyanese and others the opportunity to have state-of-the-art medical services," Boyle commented. In addition, he told of plans to have new exotic tests being done in Guyana in the next few weeks, which will include Vitamin D, folic acid, basic metabolic panel (BMP) and more, all at an affordable cost.
Meanwhile, in her brief remarks, Mrs. Granger revealed that since the early years of the company in 1995, she has been one of the laboratory's earliest clients and which gave her first-hand experience of its quality of service. She pointed out that EML is unique as it is the only privately-owned medical laboratory which provides service to six of the 10 administrative regions of Guyana.
The First Lady also praised the efforts of the laboratory to get involved with the oil and gas sector, and singled out Boyle as an individual who steps out of his way for the benefit of others.
At the same event, Boyle received words of congratulations from his co-workers and EML's stakeholders, for being awarded the 2018 Ansa McAl Entrepreneur Laureate for his outstanding performance.
This Anthony Norman Sabga Caribbean Awards for Excellence (ANSCAFE) ceremony took place on May 12, 2018 in Jamaica in the presence of Chairman of the ANSA McAL Group and Foundation and Patron of the Awards, Dr. A. Norman Sabga.
In addition, EML celebrated its 23rd Anniversary while Boyle also celebrated his birthday and was showered with well wishes. After being surprised with a cake to mark this milestone, Boyle and First Lady, Sandra Granger performed the traditional cutting of the cake.
EML which provides a wide range of medical tests in the departments of haematology, microbiology, serology, endocrinology and clinical chemistry, has several branches countrywide and one in St. Vincent. The company has scored a series of firsts in the past, such as the first laboratory to be accredited by ISO standard; the first to open a psychodiagnostic centre and the first solar powered medical facility.