TORONTO, Canada – Better Hope emerged winners of the annual Canadian Dominoes Association (CDA) aggregate tournament which climaxed recently at Starlite Family Restaurant & Bar, Scarborough here.
By far the most consistent team in the 14-week tournament, Better Hope tallied 2143 games to run out victors over Carr Tec who occupied the second spot on 2125 while Demerara had to settle for the third position with 2053. Young Blood (2045), Titans (2010) and Empire (1986) were the other teams which participated.
Demerara's Anthony Caesar displayed remarkable consistency throughout the tournament to end with 392 games with Better Hope's Jerry Brittania placing second on 371 while Rick Persaud of Young Blood ended with 364.
Nirad Lall (Young Blood), Reth Ally (Titans) and Prem Persaud (Better Hope) shared four loves each. However, Lall took the top prize for tallying 27 sixes.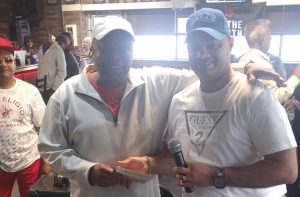 Cash prizes were handed out to all the participating teams with the winners collecting $1800 (C); first runner-up $1500; second runner-up $1000; fourth $500; fifth $400 and sixth $300.
Caesar received $200 for making the most games while Brittania and Persaud collected $150 and $100 respectively. Lall was awarded $100 for sharing the most loves.
Apart from their cash prize, Better Hope also took a lien on the challenge trophy while their eight registered players were recipient of trophies. They will have a replica of the trophy while any team winning on three occasions will have the trophy for keeps.
The tournament was organised and run by Ray "Lance" Williams who also represented Titans. And according to him, the association will be aiming to have nine teams when the tournament is played once more, commencing in December.
Williams expressed sincere thanks to the proprietors of Starlite for allowing the entity to stage the tournament at the venue while owner, Albert Ramcharran also pointed out that it was a pleasure hosting the annual competition. (Frederick Halley)