Perez, bowlers give DCC T20 title
DEMERARA Cricket Club (DCC) won the Georgetown Cricket Association's (GCA sponsored Carib Beer T20 title after producing a disciplined bowling effort to beat hosts Georgetown Cricket Club (GCC) by six runs yesterday.
The hosts had looked set for victory with 13 runs needed in the last over, but Christopher Barnwell bowled a brilliant over, where the hosts could have managed just six runs.
Chasing 156 for victory, GCC ended on 149-7. While spinner Trevon Griffith (3-35) and Dennis Squires (2-34), were the best bowlers for the winners, it was a total bowling effort.
Earlier, man-of-the-match, Raymond Perez and Jahron Byron mounted a late assault, which was hugely influential in DCC's challenging total of 155-7.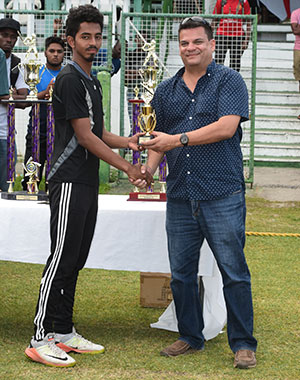 Perez scored 54, sharing in a 68-run seventh-wicket partnership with Byron after the visiting side were 62-6, at one stage.
Deciding to bat first, the Queenstown-based side were given a decent start from openers Tevin Imlach and Trevon Griffith, but the hosts got the momentum back in their favour with three quick wickets.
Both openers, along with Barnwell, were dismissed within the first six overs in the innings, which eventually stocked the pressure for the visiting side.
Imlach, the former West Indies youth player showed his intent early, hitting two consecutive fours off pacer Joshua Wade, but unfortunately, he was run-out for a 9-ball 12, at 26-1.
The right-hander Griffith hit a four in his 16 but went for an ambitious shot off spinner Gavin Singh only to top-edge to short third man.
Barnwell (2), was then dismissed, caught and bowled, off the third ball from left-arm spinner Anthony Adams in his first over.
The hosts' bowlers kept chipping away at the wickets at regular intervals. It looked like the DCC batsmen at that point had come out with the motto to "hit out or get out". Sachin Singh (13) was caught on the long-on boundary off Ronaldo Ali-Mohamed, who then bowled Sherfane Rutherford three balls later to leave the score at 60-5.
Adams then trapped Joshua Persaud leg-before-wicket, but Perez and Byron then gave the innings a measure of respectability off the next 7.3 overs.
The pair had to rebuild the innings and they did exactly that, with Perez smashing five fours and a six in his 40-ball innings, while Byron's unbeaten 34 came off 29 balls with two fours and a six. Steven Sankar contributed a 9-ball 17 at the back end of the innings.
The run chase saw Robin Bacchus smash an aggressive 55 off 40 balls, Ali-Mohamed hit an unbeaten 46 off 32 balls, but their effort came up just short of the target.
Bacchus and Jeetendra Sookdeo put together 36 for the first wicket in 5.3 overs
However, after hitting two consecutive sixes off Squires (2-34), Sookdeo was dismissed next ball, caught on the long-off boundary for a 17-ball 17.
Bacchus was joined by Leon Johnson, but the GCC captain failed to impress, contributing just six runs.
At that point, Bacchus progressed past 50 with an array of powerful shots around the ground, but the hosts then slipped further with the loss of Vishaul Singh (1), Bacchus and Gavin Singh (0), at 84-5.
Ali-Mohamed and Martin Pestano-Belle took the score to 143, but the hosts lost Pestano-Belle and Wade in quick succession, which added pressure on Ali-Mohamed.
At the presentation ceremony, several players were rewarded for their outstanding performances during the tournament.
In Zone A: Best Bowling Performance 4-9 (Stephen Harris); Bowler with most wickets – 7 (Trevon Garraway); Batsman with the highest score – 91 (Sherfane Rutherford); Batsman with the most runs – 172, (Christopher Barnwell); Fielder with the most dismissals (Lennox Andrews) and MVP (Christopher Barnwell).
In Zone B: Best Bowling Performance 3-11 (Devon Lord); Bowlers with most wickets – 7 (Akshaya Persaud); Batsman with the highest score – 72 (Akshaya Persaud); Batsman with the most runs – 172, (Akshaya Persaud); Fielder with the most dismissals (Devon Lord) and MVP (Akshaya Persaud).
In the Final: Batsman with the highest score (Robin Bacchus); Best bowling performance (Trevon Griffith); Best fielder (Trevon Griffith) and Man-of-the-Match (Raymond Perez).