By Ravin Singh in Jamaica
THE final leg of the Digicel Grand Prix in Kingston, Jamaica was a highly successful one for Guyana with two of its national athletes copping gold at the event which was held at the National Stadium.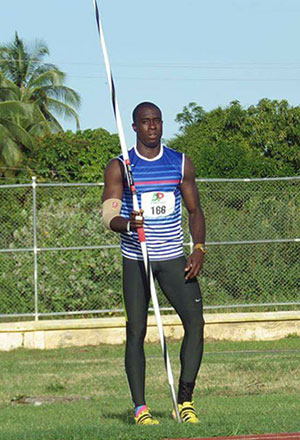 National javelin record-holder Leslain Baird was the first to record a win in his event, with a throw of 74.3m.
Despite not being able to reset his national record which was set earlier this year, the Guyana Defence Force (GDF) athlete said that the day was a successful one for him.
"The competition was good for me. I took control of the event from my first attempt with a throw of 69m. After fouling on my second attempt, I cleared the 70m bar in my final attempt with a distance of 74.3m – just a few centimetres short of my personal best," he said.
He also described the other athletes at the track meet as "very supportive" and shared that he was encouraged and motivated by them.
"The guys at the competition were very supportive. They kept encouraging me throughout and that was really motivating. So I would say I had a successful day," he said.
Baird has been in fine form over the last few month, having reset the national records at least four times, and consistently throwing over 70m. His goal for this season is to clear 76m, which he hopes to accomplish at the upcoming Commonwealth Games in Australia.
Meanwhile, national high jumper, Natrena Hooper also recorded a win in the high jump, clearing a height of 1.75m. She was awarded gold.
She shared in an interview with Chronicle Sport that she is elated to have won gold and to represent Guyana. The high jumper who also heads to the Commonwealth Games next month said too that she has been improving and hopes to keep this momentum going in Australia.
Only two days ago Hooper bagged three gold medals at the University of the West Indies (UWI), Mona annual intramural sports in the high, long and triple jumps. She was adjudged the best female athlete of the day and awarded 'Champion Girl'.
Other Guyanese athletes who were expected to participate later in the evening were sprinting stars Emanuel Archibald and Owen Adonis in the 100m and 200m respectively. Both athletes also copped two gold medals each at the UWI Sports on Thursday.
The Digicel Grand Prix is a yearly meet, organised by the Jamaican Athletics Administrative Association (JAAA) and is hosted at the National Stadium.