— as Berbicians celebrate Phagwah
THE parking lot of Classic International Hotel, Number 79 Village, Corriverton, Berbice, on Friday was transformed into a kaleidoscope of colours, joy, laughter and togetherness when the fourth annual Phagwah Mela was held.
The action commenced at 14:00 hrs as persons graced the occasion adorned in their white garment but left a little after 21:00 hrs transformed in a canvas of hues and unrecognisable faces.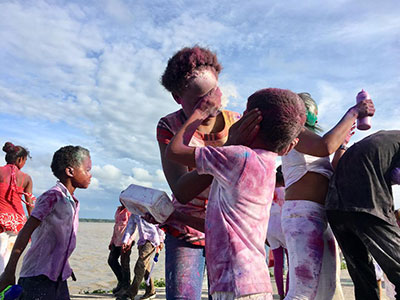 As the afternoon wind down, the parking lot overflowed with revellers. They were thoroughly entertained by local chutney stars, Terry Gajraj, the Hitman, Sally Sagram, Nishard B, Bunty Singh, the Shelita Dance Troupe and tassa drummers, among others.
The event was organised by Danesh Roopnarine and Family of the Price is Right Supermarket as a means of giving back to their customers and the community.
Shivanie Roopnarine of Price is Right Supermarket said the concert was also geared at promoting and keeping the Indian tradition alive.
"It's a way of keeping the culture alive. These days we notice many of the youths are straying from the tradition. As Hindus, we want to preserve our culture and I think once the younger generation see we are trying, they will want to emulate," she said.
A variety of Indian dishes such as seven curry, sweet rice, desserts and an abundance of abeer and powder were given to patrons free of charge.
Neurosurgeon, Dr. Amarnauth Dukhi who also played a critical role in making the event a success, said he is happy that Holi can bring society together and strengthen the secular fabric of the country as persons of all religions would come out to celebrate the Festival of Spring.
A proud resident of Skeldon, he said he was happy to see unity among every section of society.
Mayor of Corriverton, Hemchand Jaichan praised the organisers for the investment in the event, noting that it is one he always look forward to.
Speaking with Guyana Chronicle, an overseas based Guyanese who came for the Festival of Colours, said he made the effort to come and celebrate Phagwah in Guyana and especially in Berbice.
"This is the best place to be, there is unity here and so much fun," he said.
Earlier in the day, throughout East Berbice communities, families lined the streets as they throw fistful of powder and drenched each other with water.