FOOD security is a growing issue internationally. Research is being done to introduce crops that are stress-tolerant, highly nutritional, and cost-effective owing to climate change. One such crop is Quinoa, which has both nutritional benefits and agricultural versatility.
Quinoa maintains productivity on rather poor soils and under conditions of water shortage and high salinity. The grain is rich in minerals, vitamin B2, and high in fibre and complete protein. The grain could be prepared for consumption in a variety of ways including salads, porridge, and even baked in bread.
Locally, the National Agricultural Research and Extension Institute (NAREI) has been partnering with Felix Quinoa Farming Industry (FQFI), and the Food and Agriculture Organisation to introduce quinoa to Guyana.
Last year, NAREI conducted successful trials at its Mon Repos location. Seeds obtained from its partners were set in seed trays and transplanted in the open field. The crop took three months to mature.
The institute will be conducting further research this year. The production of eight varieties of quinoa is a crucial part of the agency's 2018 Work Programme. Trials on the crop will continue at Mon Repos, East Coast Demerara and Kairuni, Soesdyke, Linden Highway.
While quinoa is not a popular product in Guyana, it is internationally. The crop's exceptional nutritional qualities have contributed to its high demand. Since 1980, there has been an increase in world demand for quinoa, as in both world prices and exports.
According to research, producers of quinoa are hoping that the grain becomes a more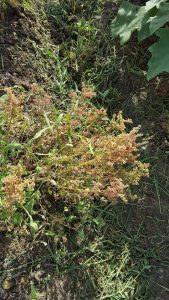 affordable common household grain. This optimistic outlook is premised on the falling price and increased demand for the commodity since 2013. During that period, markets were paying up to $ AU358 per 48.5 kg for quinoa coming out of the two major producing countries- Bolivia and Peru.
A market for quinoa in Guyana is non-existent simply because the commodity is not available in supermarkets countrywide. Currently, high-quality quinoa is sold in North American, European, and Asian markets at relatively high prices.
Local consumers need to be aware of the importance of quinoa not only as a superfood but as a commodity with economic benefits for all stakeholders. Venturing into this crop would only add to the long line of products produced locally with export potential.
As a net exporter of agricultural products, Guyana has generated foreign currency income by the commercialisation of traditional products such as sugar, rice and other crops. The culture of entrepreneurship must prevail in all farmers, looking for new ways of doing business with the other crops.
To this end, quinoa represents an opportunity to expand production and highlight the interest of farmers who, as a family, manage to harvest different varieties of crops. Quinoa's exceptional tolerance to hostile environments makes it a good candidate crop offering food security in the face of these challenges. Due to the harsh impact of climate change growing crops have become extremely difficult. However, growing quinoa would surely mitigate these challenges and provide economic stability and food security for many persons in the country.