GUYANA may be just a heartbeat away from the USA, arguably the biggest driver of demand for the product, not to mention the regional hub in terms of supply, yet it's still to achieve its true potential.
But things are about to make a turnaround, as Pomeroon Trading Inc has plans to tremendously boost production.
According to British businessman and CEO of Pomeroon Trading, Mr Duncan Turnbull, in the initial stages, the company had invested in an intercropping pilot project to sustain the start-up of the industry.
He told the Guyana Chronicle in an exclusive interview that while the company's main aim is to export coconut water, it will be experimenting with value-added processing facilities, such as using coconut husk for biofuel.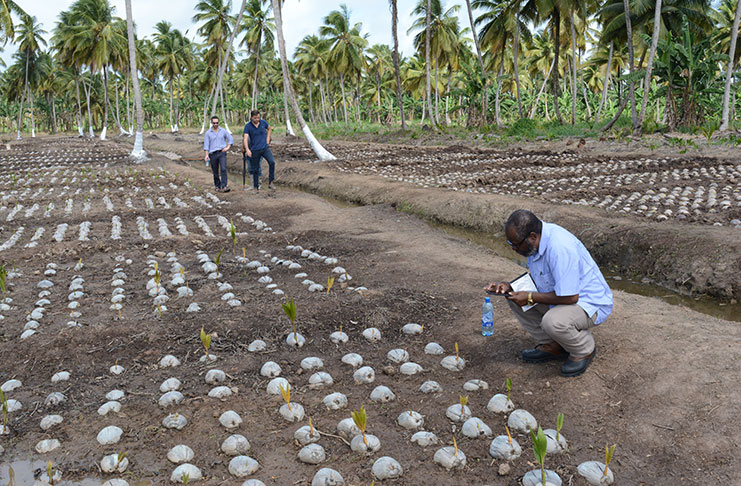 Turnbull also said that the company will be intercropping with avocado, turmeric, black pepper, ginger, moringa, passion fruit and stevia, since they are looking at high-end crops that can be processed here before being exported.
But in the interim, there are three main intercrops being planted for the local market, and these are bananas, of which there are 20,000 suckers, watermelons, all 20 acres of them, and 25 acres of pumpkin.
He said that with demand for coconuts booming, and ageing trees threatening to curtail world supply, researchers feel that Guyana could develop a viable coconut industry.
SUPPLY & DEMAND
Global demand for coconut products, Turnbull said, is growing at a rate of 10 per cent per annum, but supply is another story, as over 90 per cent of the nuts on the market come from smallhold farmers.
Again, of the 70 billion or so coconuts on the world market annually, just a measly one per cent comes from the Caribbean.
Global supply of raw coconuts, Turnbull says, is dominated by Indonesia, The Philippines and India, so Guyana is ripe for development, since urbanisation is challenging the industries in these countries.
He said, too, that with the sugar industry on the decline the world over, Guyana will have to adjust, which means that there will be lots of land available and viable for coconut production.
And, thanks to health-conscious consumers, the markets for high-end products such as coconut water and virgin coconut oil are seeing exponential growth.
Strong niche markets, the Britisher said, are also emerging for coconut-based snacks, milk, yoghurt and ice cream, as well as coconut flour and coconut sugar, while demand for the traditional desiccated coconut is as solid as ever.
Contending that the availability of coconut seedlings is one of the key reasons for underperformance in the local coconut sector, Turnbull said: "We are trying to tackle this problem at the most fundamental level.
"Existing estates are often ageing and unproductive. Without the right planting materials, the industry cannot revitalise."
BIGGEST SUPPLIER
Turnbull has plans for Pomeroon Trading to be the biggest supplier of planting materials in the Pomeroon. For that matter, he has plans for Guyana to have the biggest coconut seedling nursery in all of the Caribbean, as the company aims to produce over five acres with 50 beds of seedlings in partnership with the Caribbean Agricultural Research Development Institute (CARDI), the National Agricultural Research and Extension Institute (NAREI) and the Ministry of Agriculture.
Turnbull and his team recently met with Minister of Agriculture Noel Holder and NAREI's Chief Executive Officer, Dr. Oudho Homenauth, to update them on the nursery and works being done to rehabilitate the estate.
He is particularly grateful for the support he has been receiving from NAREI and the Ministry of Agriculture. He said that presently, his company employs about 40 persons in the community, and has replanted some 30,000 coconut trees.
He said that although the availability of seedlings is one of the main challenges to the Caribbean coconut industry, the company will help to tackle this by planting three-year coconut seedlings, which will be available for sale to local farmers, thereby stimulating a vibrant industry.
Pomeroon Trading Inc. is a Guyana-registered company operating on some 700 acres of farmland in the Pomeroon that has been leased from the Stoll family.
TECH-DRIVEN
The company aims to use technology to transform the local industry. Thirty thousand seedlings have already been planted, and this is likely to be increased to 50,000 in the next year.
Financed by investors from the UK and the Caribbean, the company is working to restore a neglected estate to its former glory.
As part of its corporate social responsibility in the community, the company recently built and handed over a dining hall to the Hackney Primary School.
According to a survey done by NAREI, there are over 1,454 coconut farmers in Guyana.
And while the industry comprises a large number of estates, small farmers make up a significant proportion of the industry. This is especially so in the Pomeroon, Wakenaam and the East Coast of Demerara.
Coconuts continue to be Guyana's major non-traditional export; exports which amount to some US$5M annually.
January last, more than 450 tissue-cultured coconut plantlets arrived at NAREI's Mon Repos, East Coast Demerara (ECD) head office from Mexico.
The varieties include Mexican Pacific Tall, Vanuatu Tall, Markham Valley Tall and Pilipog Green Dwarf. They are currently being monitored at the institute's greenhouse.
The plantlets were donated by the Investigative Centre of Yucatan (CICY) as part of NAREI's staff, Analeesa Skeete's thesis for her Master's Degree Programme in Biological Sciences.
According to Skeete, the new varieties are resistant to the lethal yellowing, one of the most fatal diseases that attack coconut palms. An evaluation of the plants will be done to see how well they adapt to Guyana's climate.
Farmers will subsequently be introduced to the new varieties at a demonstration farm, where they can examine the nuts' sizes, taste and quality. These new varieties are good for both water and coconut oil.