…SOCU adviser bemoans sloth in money-laundering prosecutions
…says some $300B in financial crimes being probed
THE sloth in the investigations into financial and other organised crimes that have taken place here is of much concern to Irish financial investigation expert and adviser to the Special Organised Crime Unit (SOCU), Sam Sittlington.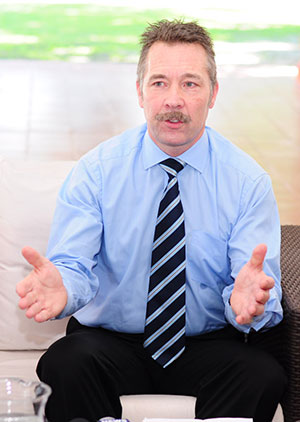 Sittlington has been hired by the British Government to serve as a Financial Investigations Mentor or adviser to SOCU. This is his third stint in that capacity. Speaking to reporters on Tuesday in the presence of British High Commissioner to Guyana Gregg Quinn, Sittlington disclosed that there are over $300B in financial crimes being investigated currently. "They have a lot of cases…over 300 cases now. Unfortunately for SOCU, they have been inundated with a number of forensic audits. To date, they have 26 forensic audits, four of those forensic audits have gone to charges, people being charged," he said.
The financial investigation expert said those four cases represent in excess of $116B, while the other 22 audits stand somewhere in the region of $170B. Added to that, he disclosed that SOCU has had 39 referrals from the Financial Intelligence Unit (FIU), but only two of those cases have gone to the courts.
"That doesn't mean to say when they get a referral from the FIU that there is an immediate investigation. But they have to carry out some form of investigation to establish there is a case and then take advice on charges as the case may be."
SOCU he said has done lots of work over the past year, but many of the cases on which the unit has worked are sitting either with the Police Legal Advisor (PLA), Justice (ret'd) Claudette Singh or Director of Public Prosecutions (DPP), Shalimar Ali- Hack. Sittlington, who returned to Guyana on Tuesday to resume his post as adviser, said, "I am trying to get the handle on why cases I was looking at last year at this time are still sitting either in the PLA's office or the DPP's office."
Currently, the PLA is on leave, but when she resumes duty, Sittlington intends to meet with her. He will also be meeting with the DPP. Before he departed, his recommendation for the hiring of special prosecutors was implemented. Six special prosecutors, Michael Somersall, Hewely Griffith, Lawrence Harris, Patrice Henry, Compton Richardson, and Trenton Lake were hired by the administration.
But that too seems a bit problematic. Sittlington said, "Now, when you have special prosecutors who have a view on a case which is different from the DPP's view, which is also different from the PLA's view, then you have to look and find out what is going on here. Three legal minds with different views on a money-laundering type case." "So, I need to get to the bottom of that and try to establish why they have these different views and what sort of evidence structures they are looking for to take a case to court."
The Irish expert made it clear that such delays are in his view unfair to the subjects of the investigations and to the police conducting the investigations, because they are unaware of where they are going wrong. "So we need feedback from all three departments (to know how far to go with the evidence trail in the future.)." He noted that a number of the files that were with the PLA last year are still there. He acknowledged however, that some files have been sent back to SOCU for procedural evidence, but were returned to the PLA.
"Some of the cases have gone further from the PLA to the DPP, so there is progression there. Some cases from the PLA last year have had charges, some of them have been heard and some cases were dismissed and are being appealed by the DPP."
Sittlington explained that while there are 26 audits it does not mean only 26 cases. He said one audit can contain several cases, because in each audit there are tentacles which speak to malfeasance, false accounting, or tax evasion to name a few.
"Each of those tentacles now becomes one file… so out of the 26 audits we have 300 investigations. That does not include the FIU referrals, advice and guidance given, so well over 300 cases and that's only the forensic audits," he disclosed. SOCU has a staff complement of 17. Included in those cases is the Pradoville 2 case. He denied that there is hesitancy by the PLA to move forward with the cases before her.
"I don't think that's the case. I met with the PLA many times when I was here the last time. She is a retired judge; she is well versed in legislation, procedural law. I think she is inundated with all of the police cases, the SOCU cases and the more help she can get I think would be useful for those cases to be expedited." As such, the Irish expert is of the opinion that the PLA needs assistance. In fact, he recommended that she should have the special prosecutors assist her with the cases.
Meanwhile, Sittlington reminded that money laundering is subsequent to a previous criminal act such as corruption, tax evasion, fraud, or drug trafficking, and SOCU's role is to investigate the money laundering aspect of those cases. However, due to the lack of experience in some of the other criminal areas, the unit is saddled with "doing everything and that puts more pressure on them and makes these types of cases more challenging."
Criminals he said, are tactful and are using the internet, foreign jurisdictions, offshore companies, and trusts, as different avenues to try and launder money from criminal activities. In the case of the special prosecutors, the expert noted that they are also practising law privately which means they are "conflicted between two different areas", he reiterated the need for a "good lawyer" at SOCU who can work with cases from the cradle to the crib. "They can try to quicken that actual process of getting a case to court," he stated, while noting that there are a number of issues outside of the control of SOCU. He cited the court process which was described as "abominably slow."
"One of the reasons for that is, when a magistrate is taking evidence on the case, she has to write her own notes …so they can only sustain that for short periods. So therefore, a case that was running last year is still running this year." The financial investigation expert told reporters that one matter that was in the courts since last year was brought up again before a magistrate who is still taking notes. "It is a cumbersome process and unfair to the subject of the case and the police who are trying to give evidence from memory of things that they did during the course of that investigation."
Sittlington said in the United Kingdom, a stenographer takes notes, which allows the magistrate the freedom to take reminder notes which quickens the process. Moreover, he said while an accused has the right to as many lawyers as they want to be in a court room, it can be something that delays the process.
"…Trying to give evidence in these types of cases, where several lawyers are asking questions about the same thing …it just becomes a very tedious, long process."
The financial investigations mentor or advisor is tasked with working with the Director of SOCU, Sydney James and will be responsible for reviewing all current investigations carried out by SOCU, provide advice and guidance on each case, as well as in relation to liaising with other agencies, external and internal in order to progress SOCU investigations, provide practical advice and guidance to the DPP and AG's lawyers on proceeds of crime matters, conduct meetings, workshops, research and training and submit reports on his work and findings.Sittlington will serve in his capacity until 2020.