IN 2014, using the death of her best friend Mikeisha Beckles as inspiration, 24-year-old Marva Langevine decided to embark on a journey to transform the lives of bereaved, sick and underprivileged children and families in her community and beyond, having set-up her Guyana Golden Lives Organisation.
Marva's exceptional work did not go unnoticed, notching up several forms of international recognition, but for the Uitvlugt, West Coast Demerara, Secondary School teacher, her biggest achievement yet came this month, when she received news that along with 54 other inspiration young leaders, ages 18 – 29 from around the world, she will be bestowed with the Queen's Young Leaders Award.
Langevine will now join the Queen's Young Leaders network of 240 Award winners, a unique community of influential change-makers, who represent all 52 Commonwealth countries. The winners will receive their Award from Her Majesty, the Queen at a special ceremony at Buckingham Palace in London, UK, next year.
Dr Astrid Bonfield, CBE, Chief Executive of The Queen Elizabeth Diamond Jubilee Trust, said: "In this, the final year of The Queen's Young Leaders programme, once again we have outstanding Award winners, leading the way in transforming people's lives for the better in every part of the Commonwealth. We congratulate them all for their remarkable achievements. Over the coming year, the programme will nurture and develop their talents, and equip them to go further in making a lasting change in their communities. I hope they find the experience to be truly life-changing and I'm delighted to welcome today's winners to the now complete network of Queen's Young Leaders."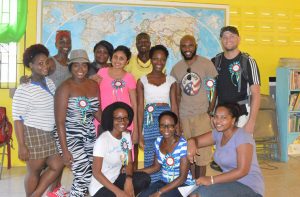 The Queen's Young Leaders programme was established in 2014 by The Queen Elizabeth Diamond Jubilee Trust in partnership with Comic Relief, The Royal Commonwealth Society and the University of Cambridge's Institute of Continuing Education, in recognition of The Queen's lifetime of service to the Commonwealth.
While in the UK, Langevine will receive bespoke training, mentoring and networking opportunities and take part in a residential programme to help the awardees to build on the work they are leading in their communities.
While still soaking it all up, the usually humbled Langevine, told the Pepperpot Magazine that while she's happy to receive the prestigious award, she's more looking forward to the networking to help in the growth of her charitable work.
With a smile to melt the largest iceberg, Langevine said her area of work is unheard of in the Caribbean region, which gives her a distinct advantage.
"It's a usually overlooked area, especially with bereaved children," she said, adding, "I've seen children who would've lost their parents or a parent and the effect is life-threatening. So we provide a safe place for them and with professional help, they're able to overcome."
FINANCIAL SUPPORT
Asked about her support system, Marva said thanks to her family, friends and the use of her personal finances, her organisation is kept afloat, but of course, it's a sacrifice.
She, however, said several persons and business have been generous to help in the organisation's activities where they host an annual camp, celebrate the children's birthdays, as well as lend a hand in whatever community projects.
Nolan Lancaster of Industrial Supplies and Services; Richard Jodah from Nobel House Seafood (Camp Golden); REO Region Three, Denis Jaikaran (outreach and workshops); Javid Ali from Slingerz (fundraisers); "D" Division Commander, Leslie James (outreach activities); Eton Cordis, Managing Director of Talk is Cheap Café (special activities); as well as Seon Owner of Indulgence Restaurant (Birthday parties) were listed as persons for whose assistance Langevine is grateful.
She pointed out that Covenant Home for Children will be sponsoring two children for the new school year, while Ansa McAl, relatives and friends in the diaspora also contributed significantly in helping to make her entity sustainable.
Looking ahead, Marva stated, "My expectations for the new year as a recipient (of the award) include being able to promulgate the work that is already being done nationally, through the networking opportunities and the availability of well-experienced mentors."
"We also plan to collaborate with other community groups and charitable organisations…I am [also] on the Board of Covenant Home for Children; a charitable non-profit organisation headquartered in the United States that is focused on the homeless, runaway, abandoned, abused, trafficked, or exploited youth of Guyana," said the school teacher with a golden smile.