ON a surreal fourth morning when the Guyana Jaguars played some silly cricket, the sixth round Cricket West Indies (CWI) Professional Cricket League (PCL) Four-day encounter between the title-holders and Windward Islands Volcanoes ended in an historic tie yesterday at the National Stadium, Providence.
It was the first tie in 152 years for the regional first-class championship
Scores in the game: Windward Islands Volcanoes 117 and 241; Guyana Jaguars 194 and 164.
Statistics had highlighted the Jaguars dominance this season, but this match shifted balance throughout its course, swinging precariously from one side to the other until the end, after the Jaguars lost their last six wickets for just 60 runs.
Despite the shocking result, they Jaguars remain at the top of the table, moving to 97.2 points, having earned 10.8 from this match.
It was ultimately a-below-par performance from the hosts, taking into consideration their dominance throughout the history of the PCL.
Set 165 for victory, the home team resumed on 104-4, 61 runs short of the winning target, but things largely went wrong for the three-times defending champions from the very start, as off-spinner Shane Shillingford wreaked havoc with (5-47) to take his 40th five-wicket haul at this level.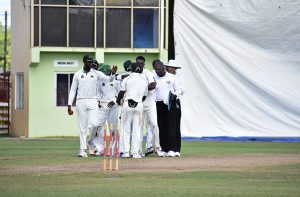 The former West Indies off-spinner claimed four of the six remaining Jaguars wickets, as the hosts' batsmen had no answer to the turn and bounce of Shillingford.
Resuming on 48, Test batsman Vishaul Singh was Shillingford's first victim of the morning when he trapped the diminutive left-hander leg before wicket for 56, at 118-5.
Teenagers Sherefane Rutherford and Keemo Paul failed to add any aspiration to the Jaguars intent, with Rutherford(2) being removed by left-arm seamer Delorn Johnson (3-45), while Paul (3) was run out in a total mix-up with Anthony Bramble, the other overnight batsman, at 138-7.
Bramble, who resumed the day on ten, played a lone hand in reducing the Jaguars deficit, adding 20 with Veerasammy Permaul, but Shillingford continued to gain appreciable bounce and sharp turn, removing both Permaul (5) and Gudakesh Motie (0), at 158-9.
With seven runs needed from the last pair of Bramble and Keon Joseph, the Jaguars fell short of the target by one run as Shillingford completed his five-wicket haul when he trapped Bramble leg before wicket for 45.
The Jaguars now host the Leeward Islands Hurricanes in round seven from Thursday before the tournament break for the Christmas season.
VOLCANOES 1st Innings 117
Jaguars 1st Innings 194
Volcanoes 2nd Innings 241
Jaguars 2nd Innings (target: 165 runs)
(overnight 104 for four)
Chanderpaul lbw b Johnson 0
Hemraj lbw b Mayers 19
Johnson b D. Johnson 12
Singh lbw b Shillingford 56
Chanderpaul c Devon Smith b Shillingford 11
Bramble lbw b Shillingford 45
Rutherford c Cato B Johnson 2
Paul run out (Cato) 3
Permaul c&b Shillingford 5
Motie c Devon Smith b Shillingford 0
Joseph not out 0
Extras: (b-5, lb-2, nb-4) 11
Total: (all out; 47.2 overs) 164
Fall of wickets: 1-0, 2-28, 3-51, 4-88
Bowling: Johnson 12-1-45-3, Lewis 8-1-30-0, Mayers 10-3-31-1, Shillingford 16.2-0-47-5, Theophile 1-0-4-0