–in 17-day art exhibtion @ Castellani House
A SEVENTEEN-day visual arts exhibition opened here Thursday at the National Art Gallery on Vlissengen Road which put the spotlight on art teachers for a change rather than their charges.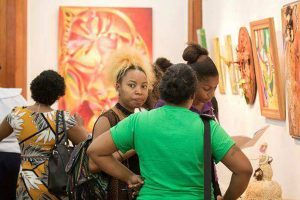 According to Ms Lori-Ann Jacobs of the Technical and Vocational Educational and Training (TVET) Unit of the Ministry of Education, the exhibition is the first of its kind, in that it is geared towards allowing teachers to put into practice what they would have learnt after completing their formal training at the Burrowes School of Arts.
Featuring the works of teachers from all across Guyana, the event is hosted by the Ministry of Education, in collaboration with the National Art Gallery, and has over 130 art pieces on display and for sale.
Jacobs said that the exhibition is not limited to paintings and drawings, as it also features leathercraft, textile designs, fibre arts, ceramics and mix media work.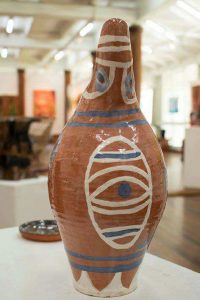 The objective, she said, is to showcase the talent of teachers as a way of motivating students. The idea is to also bring art teachers together so as to sharpen their skills.
Jacobs said that while the exhibition may have a certain appeal for people in the art community, it is also open to the public, as some of the items are also on sale.
The exhibition, which opened last Friday, will run until October 28. The door opens from 10:00hrs to 17:00hrs on Mondays to Fridays, and from 14:00hrs to 18:00hrs on Saturdays.