…President Xi vows major projects to restore ecosystems
CHINA is positioning itself to lead in the fight against climate change with its leader, President Xi Jinping telling his party's 19th Congress on Wednesday that his government will step up efforts to establish legal and policy framework that promotes green production and consumption.
This, he said, will call for the promotion of a sound economic structure that facilitates green, low carbon and circular development.
With the United States Government pulling that country out of the landmark Paris Agreement, observers say China, as the second largest economy, can lead in this regard.
Though Beijing continues to grapple with the challenge of cleaning up its environment amid almost three decades of high speed growth, it has been taking steps to push a green growth.
"We will create a market-based system for green technology innovation, develop green finance and spur the development of energy-saving and environmental protection industries, as well as clean production and clean energy," President Xi told the opening of the one-week Congress being held at the Great Hall of the People in Beijing.
President Xi said China will promote a revolution in energy production and consumption and build an energy sector that is clean, low-carbon, safe, and efficient.
"We will encourage conservation across the board and promote recycling, take action to get everyone conserving water, cut consumption of energy and materials and establish linkages between the circular use of resources and materials, industrial production and everyday life," Xi said.
Only last month China and the European Union agreed to step up coordination in the fight against global warming and experts have hailed Xi's remarks Wednesday as progressive.
"We encourage simple, moderate, green and low-carbon ways of life and oppose extravagance and excessive consumption. We will launch initiatives to make party and government offices do better when it comes to conservation and develop eco-friendly families, schools, communities and transport services," Xi said.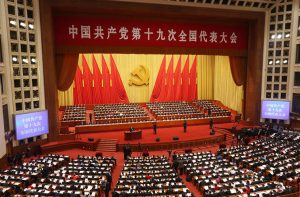 He said man and nature form a community of life and as human beings, all must respect nature; follow its ways and protect it.
"Only by observing the laws of nature can mankind avoid costly blunders in its exploitation. Any harm we inflict on nature will eventually return to haunt us. This is a reality we have to face."
He asserted that the modernisation China pursues is one characterised by harmonious co-existence between man and nature and that in addition to creating more material and cultural wealth to meet people's ever-increasing needs for a better life.
"We need to also provide more quality ecological goods to meet people's ever-growing demands for a beautiful environment."
EVERYONE INVOLVED
The Chinese leader also promised to get everyone involved in improving the environment and address issues at the root, noting that Beijing will continue its campaign to prevent and control air pollution and take comprehensive measures to improve river basins and offshore areas.
"We will strengthen the control of soil pollution and the restoration of polluted soil, intensify the prevention and control of agricultural pollution from non-point sources and take measures to improve rural living environment."
Turning to the subject of the ecosystems, Xi said China will carry out major projects to protect and restore key ecosystems, improve the system of shields for ecological security and develop ecological corridors and biodiversity protection networks so as to strengthen quality and stability.
To this end, he said his country will complete work on drawing redlines for protecting ecosystems, designating permanent basic cropland and delineating boundaries for urban development.
"We will promote afforestation, take comprehensive steps to control desertification, stony deserts and soil erosion, strengthen wetland conservation and restoration and better prevent and control geological disasters."
President Xi also promised that overall planning, organisation and leadership for building an ecological civilisation will be strengthened, noting that regulatory agencies to manage state-owned natural resources assets and monitor natural ecosystems and improve environmental management systems.
"These agencies will in a unified way perform the duties of the owner of public-owned natural resource assets, the duties of regulating the use of all territorial space and protecting and restoring ecosystems and the duties of monitoring the discharge of all pollutants in urban and rural areas and conducting administrative law enforcement," Xi said.