Special interventions sometimes needed to conquer it
"ONLY thing we have to fear is fear itself," were the words of Franklin D. Roosevelt at his First Inaugural address as the President of the United States of America after he won the 1932 presidential elections. He ended up being the only US President to be elected four times and led the country through the Great Depression and World War II.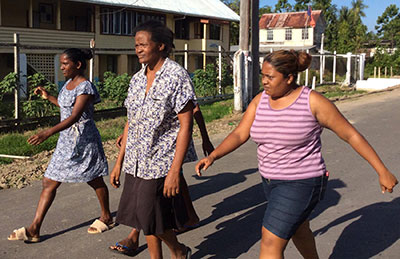 Here FDR was telling the American people that their fear was making things worse. He goes on to say, "…nameless, unreasoning, unjustified terror which paralyses needed efforts to convert retreat into advance."
Fear and death entwined?
Just recently there was a story many now know so well – a very sad report about a young lad, just 13 years old, who lost his life in Berbice after having one of the most abysmal experiences ever.
Leonard had hardly lived his life and no one could have accused him of even being 'a bad boy.' He was attending a primary school, where no one gave him a bad name and he came from a village that is called 'Brother's' Village' on the East Bank of Berbice.
The Senior Probation and Child Protection Officer, Mitford Warde, as part of his address to those who attended Leonard's funeral told the gathering: "If the perpetrators' behaviour was known by so many in this community, for so many years, what did we do to protect our children, and what did we do as a community to help him [the main suspect] to reform his evil ways?" As he continued his discourse with the gathering he questioned, "Are we going to allow these experiences to force us to go back to our normal state without us doing something? Every Guyanese is a child protector. We must break the cycle of child abuse," he said.
Addressing the problem of fear
The people have spoken out in sections of the media that fear is what caused them to not retaliate in no great measure; instead of retaliation, some sought to 'walk the other way' so as to avoid any form of contact with the man. For many, he was no ordinary man and fear gripped them in a manner to cause retreat.
The problem is that there is still fear – in some cases greater fear, while in other cases the fear itself may lead to a determination to never let something so heartrending ever happen again – within that community or elsewhere in the country. But the question is: "How would or could this be done?"
While there is no time to throw the blame from one side to the other; there is time to speed up the process of helping the affected parties to deal with the whole issue of 'fear'.
"For God hath not given us the spirit of fear; but of power, and of love, and of a sound mind." These are words that can be found in 2nd Timothy 1:7 (KJV) of the holy bible.
Overcoming fear, therefore, is not an effortless situation within an individual's life; within a family, a community or even a nation. Sometimes there is need for a lot of effort to help people overcome fear – fear of all sorts.
Fear may be felt in many forms. People fear other people – just because of how they look, the things they say, the things they do, or a combination of all. There are also other fears such as the fear of making a commitment, fear of the unknown, fear of heights, fear of depths, also the fear of being shut in (small spaces), as well as the fear of open spaces, and many more.
Dr. Carmen Harra described fear as: "a distressing emotion aroused by impending danger, evil, pain, etc., whether the threat is real or imagined… Fear is such a powerful emotion that it can simply override all other feelings, logic or priorities. And no matter how strong or courageous or defiant we are, inevitable circumstances can entangle us in a web of our own fears."
She further said that fear leads us to act out of desperation, frustration and anger, but fear also plays a vital role in our lives. We would live with reckless abandon if we knew no notion of fear, performing all sorts of downright dangerous activities. The key is to distinguish between actions which induce a healthy acknowledgment of apprehension versus illogical triggers of fear which stifle our potential and limit our well-being. Conquering our fears, therefore, begins with the acknowledgment that oftentimes fear is a decision, not an inherent trait or needed component of life.
Global problem
There is this global problem where far too many children live in fear; also many adults live in fear; there is also the problem of so many women who live fearful lives. However, each country's circumstance would allow them to deal with their situations differently. Guyana has to work with her own sociocultural factors, which essentially affects thoughts, feelings and behaviours. Then there are also the economic factors, as well as the political will to overcome.
There is no doubt that the latter is in place, but the situation is well-spread and deep-rooted and would call for the zeal and enthusiasm of the major players in the decision-making arena to make a positive impact.
Public education, as well as individual and group education touching at the root-cause of the problems, have got to be addressed. There is hardly a short-cut to this approach.
"…Every Guyanese [should indeed] be a child protector," said Senior Probation and Child Protection Officer, Mitford Warde and he is correct. People fail each other, even as they fail themselves in not formulating ways of protecting themselves and their communities.
The challenge, the way forward
However, what is done is (sadly) done! There has to now be a way; a way toward recovery, a way toward triumph over evil. Some people may already have the tools and all they need is the encouragement to move ahead, along with the understanding and reassurance that their role, according to the laws, will be well supported.
On the other hand, there are those Guyanese who may be very willing but need to understand what is expected of them. What may seem as basic 'common sense' or simple knowledge to some people might not be the same for others. It is therefore imperative that nothing be taken for chance so that no stone be left unturned in reaching out to every person through public education, as well as through individual contacts, within groups, as well as in the communities. There is nothing like over-educating the masses.
(mercilinburke2017@gmail.com)