CHIEF Executive Officer and Craft Designer of the Berbice-based 'Intricate Creations', Guyanese, Melba La Goudoude continues to make it big in the business of floral creations. This time, she wowed the Barbadians, the diaspora and other visitors of Carifesta XIII, during the cultural celebrations held earlier this month.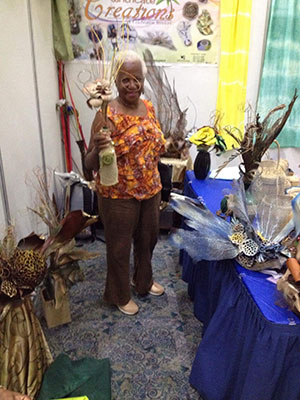 Intricate Creations, an emerging producer of floral and craft creations has made its name and stamped its authority locally, by incorporating the fibre and other parts of the coconut palm that would normally be discarded, into its many works of art.
The florals, La Goudoude said, are custom made, utilising mainly coconut fibre and palm, and attractively spray-painted with earth-tone colours as requested. She says her products are one-of-a- kind and entirely unique, carrying her signature behind her creations.
Interestingly, the roses manufactured by La Goudoude are known to exert a magnetic pull on the viewers who are absolutely intrigued by the creativity of the manufacturer and the elegance of the finished product.
So impressed have been the viewers to the CARIFESTA Exhibitionn she says, that viewers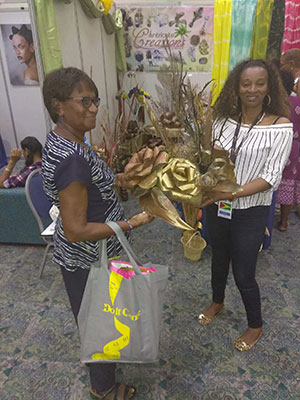 would literally take her booth by storm – admiring and making inquiries about her products and making purchases as well. "They were spellbound at the quality and creativity incorporated into putting my products together. They were intrigued with the creativity and bought many of the pieces as well," Melba declared.
She was interviewed by the Barbadian media and also appeared on CBS Television. She was proud and delighted also, to announce that Barbados' Minister of Transport, Mr.
Michael Lashley was among persons extending kudos and making inquiries about the products.
Barbadians, La Goudoude says, have even asked her to mount a training programme so they can learn how to make the roses. She said she was asked by one of the CARIFESTA Committee members to do a demonstration for the benefit of the Barbadian women, which she did. The gesture, La Goudoude said, led to her being extended an invitation to participate in their upcoming Flower Show, scheduled for January 2018.
Elated about the prospects, the designer told the Sunday Chronicle that she'd be giving it some consideration.
The designer's special pieces this time around included: 'The CARIFESTA Roses' in Large, Medium and Small, each containing 14 petals. Then there's the 'Unity with three bouquets
and consisting of three shimmering roses, each representing the counties of Guyana,
namely Demerara, Essequibo and Berbice. There is too, a wall piece called 'Harmony' which has been going fast, reaching as far as the USA. 'Harmony' consists of three golden roses, along with one in brown-and-cream one which stands out beautifully against the white background. And then there's the 'Swirl', known as 'Spring', in a variety of colours," she added..
La Goudoude recalls having had the distinct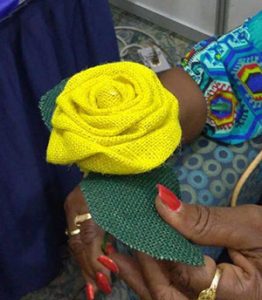 honour of presenting her first 'Unity Three' bouquet creation to Miss Guyana/UK 2016, Miss Felicity Hossanah when she visited the Ancient County of Berbice, recently
Meanwhile, expressing condolences on the death of a colleague, Guyanese, Petal Frank, who passed while in Barbados for CARIFESTA III, La
Goudoude said she will be designing a special flower called 'Petal' in her honour.