By Francis Quamina Farrier
THE Guyana Chronicle Editor, Godfrey Wray, was among the 21 individuals who were honoured at the 17th Annual Awards Ceremony on Wednesday evening by the Guyana Cultural Association of New York, which was attended by Guyana's Fourth Vice President and Minister of Indigenous Peoples' Affair, Hon. Sydney Allicock, MP.
The veteran Journalist, Publisher and Writer, was bestowed with the prestigious 2017 Exemplary Award. Godfrey Wray was also honoured by the Brooklyn Borough President, Eric L. Adams. The citation states in part: "On behalf of all Brooklynites, I salute Godfrey Wray for being recognised for his outstanding career in editing, journalism, publishing, and international entrepreneurship; I applaud him for sharing knowledge of the cultural, political, social, and geographic landscapes about the indigenous way of life."
In another segment of the annual GCA Awards ceremony, former Chronicle Editor, Neil Marks, won the First Prize of the Godfrey Chin Prize for Heritage Journalism for his article 'Pakaraima Bound'.
With the theme, "Celebrating Our Indigenous Heritage", many of those honoured were Indigenous Guyanese. They included: The 2017 Lifetime Achievement Award to Artist, Archeologist and Educator, George Simon, who is an Arawak of St. Cuthbert's Mission, in Region Four;
Aileen Hintzen, also of the Arawak nation who was born at Mabaruma in Region One, but spent most of her adult life in Georgetown as a teacher, scout leader and active member of the Theatre Guild of Guyana, was also honoured by the Guyana Cultural Association of New York.
Of Arawak and French Huguenot Heritage, Mercedes Pierre, who hails from Mabaruma in Region One, was also honoured by the GCA for her work over the years as an Indigenous human rights activist, and being active in international relations, diplomacy and legal affairs.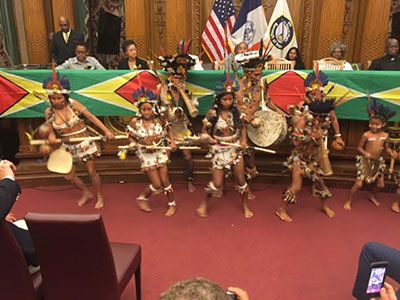 Another honoree, who is of Amerindian and East Indian Heritage, was self-taught artist and sculptor, Desmond Ali, who was described as "a renowned sculptor whose work gained notoriety during the 1980s, with his carved, relief pieces depicting the predicament of the World under the Imperialistic/Fascist dictatorship". He later founded the Guyana Artists Association in 1997, a broad platform for Main Street and Rastafarian artists.
Among the other honorees were; Dr. Slinger Francisco, better known as 'The Mighty Sparrow', whose recording career commenced in Guyana in 1954 with his composition 'The Parrot and the Monkey'. Writer Ruel Johnson; Film Producer, Romola Lucas; Dance and Costume Designer, Clive Prowell; and The Walter Roth Museum of Anthropology on Main Street, Georgetown, which was founded by Dr. Denis Williams in 1974, were also honorees.
Among the sponsors of this 17th GCA Annual series of events, were Dynamic Airways, Sybil's Bakery and Restaurant, Fly Jamaica, Pam's Bakery, Bakewell Bakery and Restaurant.
The hostess of Wednesday night's GCA Award's Ceremony was NCN's Michella Abraham-Ali, who is of Amerindian and East Indian heritage. She wore a stunning gown designed by the daughter of Minister Sydney Allicock, which had many heads in the audience turning.