CHIEF Executive Officer (CEO) of Greenlight Guyana Educational Inc., Ms. Salome Osborne, has redefined the term 'giving back' in every practical way through her life-long commitment to the youth in her Guyanese hometown and community. These sentiments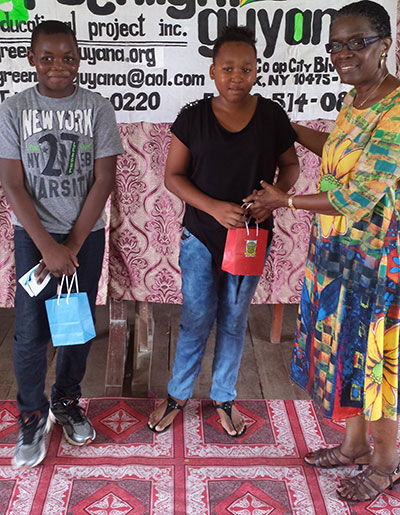 were expressed by her Alumni colleagues, in a review of her humanitarian work in Guyana.
Osborne resides in the USA, but spends much of her time back and forth between New York and Guyana, 'giving back' by way of attending to the educational needs of Guyanese children.
Quite recently, she honoured and presented financial incentives to 38 students from four primary schools on the West Demerara for success achieved at the last National Grade Six Assessment (NGSA) Exams.
The aim is to better equip them to turn out at their new schools in September, imbued with a sense of pride and feeling good about themselves.
Greenlight Guyana Educational Inc. is a U.S.-based Not for Profit, founded by Osborne in 2006. Since then, Osborne, a tax consultant in the United States, has been travelling to Guyana on Greenlight business, reaching out to the children and responding to the needs of people of those communities in diverse ways.
Greenlight Guyana Educational Inc. is a patron for the following schools: Bagotville, Nismes and La Retraite Primary. The presentations were done at Nismes Primary on August 10 and La Retraite on August 15, bringing joy to the hearts of the children. From Nismes, 19 students were awarded; Nine from Bagotville and nine from La Retraite.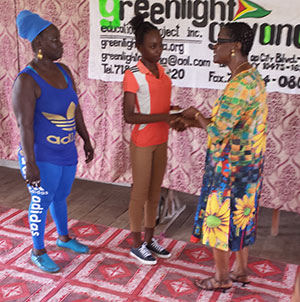 Top student and all-round performer from Nismes was Dwayne Darrell; second was Afeicha Ricchardson and third, Omeil Thomas. The top two will attend West Demerara Secondary, while Omeil will attend Patentia Secondary. From Bagotville, Tenisia Gordon was top performer from a class of nine and was awarded Le Venture Secondary School.
Meanwhile, from La Retraite, Narissa Parkes won the highest marks, followed by Joshua Evelyn. They will both attend West Demerarra Secondary School, while Seon Small and Vickram Persaud were runners- up.
Joining the students in celebration were their parents; heads of the respective schools; past teachers, including Mr. Allan Robertson who also made personal presentations to the three outstanding students; Ms. Ingrid Moore and Grace Felix.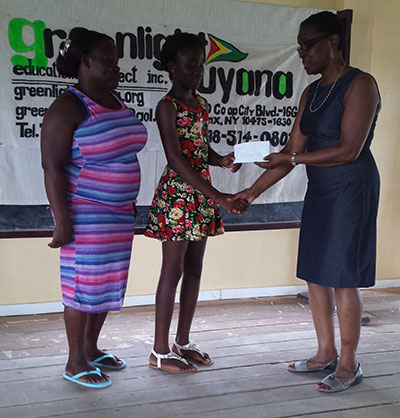 Providing tangible support for academic endeavours for hundreds of young children in Guyana, Osborne's focus for a number of years was centred primarily on the distribution of backpacks and school supplies including books, magazines, uniforms – complete with custom-made shirts and trousers, as well as shoes, socks and other necessities. Each year she donates at least 500 such kits to children of the three schools.
Come December, she'll be back with a number of barrels for her Toy Drive and clothing distribution initiative, through which she manages to bring abundant joy to the deserving children and assuring them of having a Merry Christmas.
And placing a high premium on education and reading as a tool, Osborne continues to exhort the children to stay in school and to make reading a habit. Towards this end, she has established a Book Centre in her home at Bagotsville where the children are allowed to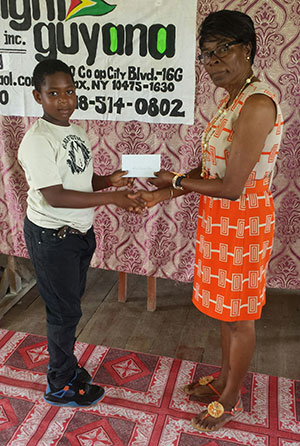 come in and read. She also places herself at their disposal to offer assistance with areas of school work that are challenging to them.,
Osborne's innovative and sustainable leadership throughout the years has been commended by members of the local communities, as well as donors in the United States who continue to see tangible evidence of transparency and her commitment to the cause.
Her organisation was conceptualised 13 years ago when, on making a visit to her hometown, Bagotville, she observed that even though school had reopened in September, a lot of children had not gone back to school. On making enquires, she found that many of the children were still at home. When contacted, their parents explained that they did not have school uniforms and so were 'holding on' until they could get supplies.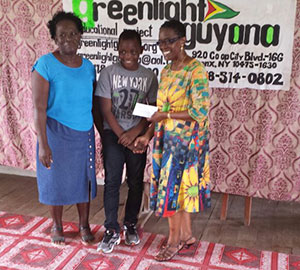 Devastated by this announcement, she contacted friends back in New York and put the idea of forming a not-for-profit charity to address this need. Thirteen years have passed, and it's getting bigger and better, and the children are the better off for it.
A past student of Cambridge Academy in Georgetown, Guyana, in acknowledgment of her distinguished works, the New York-based Cambridge Academy Alumni Association International (CAAAI) in 2010 conferred on Osborne, the prestigious Robert A. Pinkerton Award for Outstanding Community Service.
The Executive Board and all Alumni Members congratulated Osborne for this noble achievement. "Cambridge Academy Alumni Association International is proud to celebrate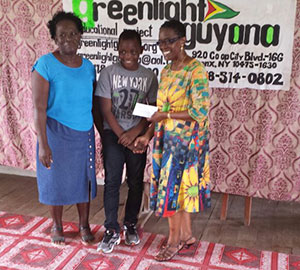 the success and achievement of one of its member-supporters Ms. Salome Osborne, whose dedication to a strong educational foundation and learning opportunities for children in Guyana, reached another rewarding high-point at a recent graduation ceremony on the West Bank of Demerara. Ms. Osborne has redefined the term 'giving back' in every
practical way through her life-long commitment to the youth in her Guyanese hometown and community," they said.