DETERMINED to press their case for better remuneration and other working conditions, cleaners of public schools on Wednesday returned to the streets for the second day in a row picketing low wages in front of the Ministry of Finance.
The picket was led by Vice President of the Guyana Public Service Union (GPSU), Mortimer Livan, and another union representative, Dawn Gardener. Their main concern was to "highlight the complaints of unpaid cleaners from several schools in Georgetown, including Richard Ishmael, Charlestown Government, Ketley Primary, St. Joseph's High and South Ruimveldt Primary, and the Agriculture School in Sophia." The cleaners and their union representatives also called on the Ministry of Finance to pay the workers their salaries before school re-opens in September.
Tamara Kirton, one of the cleaners told the Guyana Chronicle that they are "victims of wage theft". She said when she approached the Accounts Department of Richard Ishmael Secondary where she is employed as a cleaner she was not provided with a proper explanation. Another cleaner attached to the Charlestown Secondary, Ingrid Jonas, said that the Head Mistress there had them working during the July- August period and only paid them $16,000 for the two months.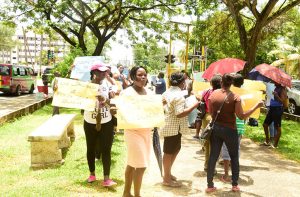 Other workers, who asked not to be identified over fears of losing their jobs, said underpayment is still happening. Ms. Myeriva Hollingsworth said she has been working at St. Joseph's High for 21 years as a cleaner and has not been entitled to annual leave, neither sick leave. "Only the Ministry of Education cleaners are being paid, but the part-time cleaners are the victims of circumstances," the woman related. One cleaner said her payment for July month was $1,000.00 and "there wasn't any contract to tell me what my rights were and what I should be doing, nothing of the sort." Another cleaner said she faced a difficult dilemma at David Rose Special School. "I have my living expenses, children to send to school, so that is why I have to work" she said.
The disgruntled women kept on chanting "No money, no wuk; No money, no wuk September morning, school gon dutty." They also said that they wake up early every morning equipped with brooms and cleaning detergents to clean and make the schools a healthy environment, and they are not only being underpaid but rarely paid on time. Livan said "this is not acceptable and I would strongly urge cleaners who are concerned about being underpaid or intimidated in any way to immediately contact the Public Service Union to investigate."
At a news conference on Tuesday, Livan had said that the situation is developing further into an economic disaster for the workers and their families. He said that with no other source of income, they are reliant on the already meagre income paid by the government and they depend on it being sufficient to meet their very basic domestic needs. The trade unionist further added that, "…the action taken to reduce their wages is heartless and these decisions are being made without any consideration for the plight already facing them".
Given these circumstances, the union made a call for the relevant authorities to immediately examine and rectify the situation which they described as "economically challenging." (Abigail Brower)