THE extractive sector continues to be a significant revenue earner for Guyana. With decline in the rice and sugar industries, the importance of the sustainable use of the country's natural resources cannot be overstated.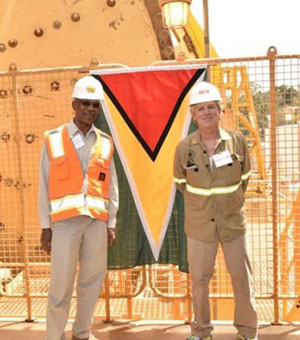 The mining sector continues to perform exceptionally well, in spite of several challenges, such as impeded access to mining lands due to inclement weather.
President David Granger, speaking in September 2015 at the first gold pour at the Aurora Gold Mines, said that the plan for the mining sector must include the involvement of the state and citizens, particularly those in mining communities and settlements, as well as local and international stakeholders. He said that as part of his government's overall plan, which would see the further development of the hinterland, every ministry will play a role in addressing issues affecting the industry, with a specific focus on creating a different strategy for security in the mining sector, with assistance from all stakeholders.
"This plan incorporates specific qualities, because we are committed to ensure that gold-mining remains a major contributor to this country's economy and particularly to the revenues that will be going to our Sovereign Wealth Fund to look after our children and grandchildren, this industry is too important to be allowed to decline and to fail," President Granger said.
Gold-mining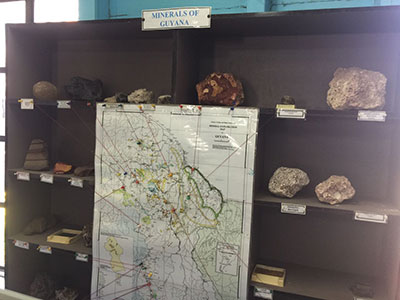 The gold-mining sector has been performing relatively well and last year, Guyana recorded the highest declaration in the history of the country of 713 thousand ounces of gold. And according to Minister of Natural Resources, Mr. Raphael Trotman, the country is on track to repeat this feat. However, Government is "cautiously optimistic," since this will be dependent on the commodities market and exchange.
This year, Government will be placing greater emphasis on small and medium-scale miners, since they have contributed to approximately 70 percent of the declared gold. This, Minister Trotman pointed out, is despite two large international mining companies operating here, namely Aurora Gold Mines and Troy Resources. He said that "This is really a testament to the hard work and dedication of our Guyanese miners, so this year we are working with them to see how we could improve conditions, to see how we could level the playing field and we could give incentives."
At a meeting with small and medium-scale miners held on March 30, 2017, Minister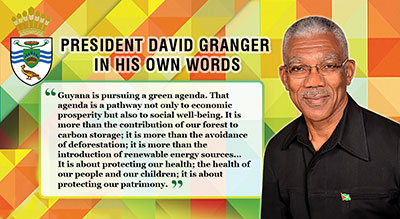 Trotman reminded the miners that the ministry has been mandated by the President to ensure all categories of miners – small, medium and industrial-scale — can participate and benefit equally from the sector, and that it must be done in a way that respects the environment. The formation of syndicate bodies signals that Government is serious about developing the sector by providing opportunities for development.
The minister acknowledged that there is always a demand for more incentives in the mining sector; however, he noted that this has to be weighed against the economy's performance to determine what can be given in the circumstances. The Ministry of Natural Resources will focus on allocating lands to syndicates, which are groups of small miners, with each group comprising 10 to 20 individual miners, who do not have access to lands. The creation of syndicates is seen as a step towards empowering small miners. Officials of the ministry are paying close attention to the success of the project to determine its feasibility in the long-term.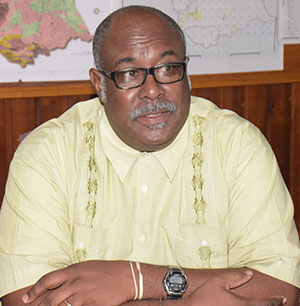 Technical Officer for Mining at the Ministry of Natural Resources, Ms. Euliene Watson, during a recent interview said that small miners are now empowered to have access to duty-free concessions on equipment, which can be purchased through a collective effort, thereby reducing individual operating costs.
Ms. Watson said the ministry is still in the process of compiling the guidelines that will govern the operation of these syndicates, with a focus on avoiding the sale of lands intended only for those miners who are part of a syndicate.
She noted that "No one person should be in more than one syndicate, because we want to have as many persons without land benefitting, so if you are already part of a syndicate you should not now be able to join up in another one, give it to someone else."
In addition, miners receive waivers on their annual payments for mining lands, which Ms. Watson views as an additional incentive.
In December 2016, the Ministries of Finance and Natural Resources, and the Guyana Gold and Diamond Miners' Association (GGDMA) renewed two contracts for concessions relating to the mining industry. Small and medium-scale miners now benefit from duty-free concessions on imported equipment, and a 10 percent tax reduction on fuel. The agreement provides for eligible gold miners to be exempted from the payment of custom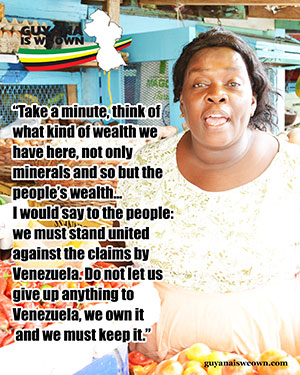 duties on fuel, matting, All Terrain Vehicles (ATVs), jackhammer drills, flex hoses, expanding metals, pumps, pump housing, impellers, shafts and engines.
Acting commissioner of the Guyana Geology and Mines Commission (GGMC), Mr. Newell Dennison, said that the interest in the mining sector continues to grow with just under 1000 applications for prospective mining permits and over 140 applications for mining permits. It is anticipated that these numbers would increase during the latter part of the year, especially with the new syndicates coming on stream.
"I think too what is keeping the interest is that the commodity price, the gold price has not been doing too badly, it has been over $1200 [US], $1200 plus, $1250, $1260 in some instances, so that has been something that keeps the interest going for the miners," he said.
Bauxite-Mining
While the bauxite industry is not performing at the level it once did during the 1970s, Minister Trotman said that the sector is still performing fairly well.
The world's demand for bauxite has dwindled over the decades and its activity is mostly driven by the operations of China and other Asian countries, therefore, as China's economy slows down, other parts of the world are affected.
The Natural Resources Minister said that after observing current trends on the global market, it is fair to say that the demand for bauxite is slowly rising, even as the prices remain the same. However, the expectation is that these prices will rise steadily this year and continue into 2018. He pointed out that "Because we are a primary exporter of raw materials, we have to wait until the economy has picked up; suffice to say the bauxite operations are conducted by Bosai — Chinese, Rusal-Russian. Together they employ about 1000 persons directly and of course multiply that by six…so about six to 10,000 persons are directly engaged, which is good. It is not doing badly; it is breaking even and making a small profit."
The Government of Guyana will this year be spending more time assessing the future of the bauxite industry and in celebration of 100 years of bauxite-mining in Guyana in 2016, a study had been commissioned to look at the amount of reserves available and how technology can improve its production. The review was conducted by Mr. Lance Carberry and Mr. Sylvester Carmichael, two veterans within the industry.
Minister Trotman said that Government's intent is to construct an alumina smelting plant so that value can be added to the bauxite before it is exported. The ministry will seek additional uses for the natural gas, which is expected to be harnessed from offshore Guyana during oil exploration.
"One of the main requirements of an alumina plant is energy and so Minister Patterson and I are speaking, so even if we do not use the gas for power generation for GPL [Guyana Power and Light Inc.] or when we bring the hydro on stream, that gas can still be available for an alumina plant, so these are options that we are looking at," the minister said.
According to Mr. Dennison, bauxite has been performing as expected and is currently at 85 percent of the projected production; stone at 70 percent of the projection and sand at approximately 60 percent of the projection for this year.
Diamond-Mining
Guyana over the past 18 months has tripled its diamond production and according to Mr. Trotman, these figures were double-checked to ensure that the diamonds are not being imported from elsewhere and declared locally, then re-exported, since this would contravene international conventions.
He noted that "In some parts of the world, in Africa and so forth, diamonds are mined and are known as conflict diamonds, they sustain wars, child soldiers, rapes and genocides and so forth. We have recently just completed a study of the diamond trade in Guyana; we've had a consultant look at it to see how we can strengthen what is happening."
The Government had initiated the review of Guyana's Kimberley Process Certification Scheme (KPCS) because of the spike in diamond production. In 2016, royalty from diamonds exceeded the budgeted amount of $24.0M by $63.9M for the period January to October 2016. For 2016, 109,651 metric carats of diamonds were declared, which earned the government $73,277,347 in fees and royalties.
In February, Cabinet approved the request for the expertise of a legal consultant to review the KPCS used for certifying diamonds. The KPCS was launched in 2003 in a bid to clean up the international diamond trade after it was recognised that diamonds were being used to finance wars and terrorism.
Mr. Dennison iterated that the Government is working assiduously to ensure transparency in the industry, since a number of issues were brought to the commission's attention this year. "We've had some issues there because there is a conversation we are having not only with the producers but with the exporters, you know we are a part of the Kimberley process and we have been trying to tighten up a little on the sourcing of the commodity and that has had some effects on the relationship between ourselves and the exporters and the producers and the exporters…I am trying to see how we can smoothen the kinks, so that there can be a pick up again in the latter half of this year," he said.
Regulation
The mining industry in Guyana has seen the loss of many lives and this prompted the need for stricter government regulations and enforcement of the mining laws to curb this situation.
The Head of State, His Excellency David Granger, noted that "Primitive gold-mining practices which expose our hinterland residents to environmental degradation and destruction must be discontinued. There must be a mandatory process of land reclamation and reforestation — not optional — mandatory. The responsibility for the environment is not solely that of the state, the responsibility is also for those who own and operate mining concessions to ensure that after they would have ceased operations, they do not leave these huge abscesses."
Land reclamation is also an important aspect of sustainable mining practices. The GGMC has been conducting several flagship reclamation projects in areas such as Mahdia, Potaro-Siparuni Region (Region Eight) and Puruni, Cuyuni-Mazaruni Region (Region Seven). A $54.3M project was undertaken in Olive Creek, Middle Mazaruni, Region Seven and was a collaborative initiative between the GGMC and Correia Mining Company (CMC).
Minister Trotman noted that as Guyana transitions into a 'green state', sustainable extraction of the country's resources must become standard practice. He said that information gained from the project will aid the Government in pushing for more aggressive reclamation. Miners are required to reclaim and backfill mined-out areas.
Addressing a Mining Safety Seminar held in July 2016, at the Arthur Chung Conference Centre, under the theme, "Putting Safety First in Mining; charting a course to cultivate compliance and strengthen enforcement", Minister Trotman noted that a collective role must be implemented and accepted.
This, he said must include, a refined government policy, enhanced regulation monitoring and enforcing by the GGMC and improved educational ethics supported by technical institutes, the University of Guyana and the companies that profit from the sale of excavators, ATVs and mining equipment.
Providing an update, GGMC's acting commissioner said officials have been working around the clock to ensure that miners comply with the rules and regulations of the commission. While noting that the commission has been stretched in terms of resources, Mr. Dennison gave the assurance that they remain the first responders in any given situation. He said there is a sense of self-regulation in the sector; however, he called for the Code of Practice to be passed into law to allow for better enforcement.
In the area of Occupational Safety and Health, Mr. Dennison said there is a high percentage of mining operators who recognise the importance of the use of safety gear and adhering to safe mining practices.
He said that "We have to be very forward thinking and try to make arrangements, especially in the case of the syndicates who will be coming on. There is an expectation that we would have to shepherd them, at least in the beginning, so that they would be able to be compliant."
In addition, the GGMC is looking to incorporate Information and Communication Technology (ICT) into its operations and intends to create a database where all mining related information will be easily accessed for monitoring and evaluation and other purposes. Plans are in train to improve the commission's geology and geochemistry work which will see, over the next three to four years, the entire country being sampled and mapped in an effort to remove some of the "guess" work in the field.
The commission also plans to diversify and generate interest in mining other minerals and chemical elements such as lithium.