— says President at post-Eid-ul-Fitr luncheon
PRESIDENT David Granger said unlike many other parts of the world, Guyana can be considered an oasis when it comes to religious tolerance.
The three main religions, Islam, Hinduism and Christianity, have been active contributors to the atmosphere of tranquillity and harmony that citizens enjoy.
The President was at the time addressing members of the Muslim community at a post-Eid-ul-Fitr luncheon hosted at the Baridi Benab at State House.
Mr Granger reminded the Muslim community that State House belongs to the people of Guyana and that for as long as he resides there, they can expect more of such events there.
"Islam encourages fellowship. It encourages friendship. It encourages charity and in Guyana we have seen how the practice of Islam has been able to erase fear, erase suspicion and prevent conflict from erupting… We have been singular in terms of breeding and encouraging religious tolerance and I believe that this event today is a symbol, not only to the Islamic community, but the entire national community that the way forward is to live and work and eat together," the President said as he expanded on the value of religious faiths to the tapestry of Guyana's diverse culture.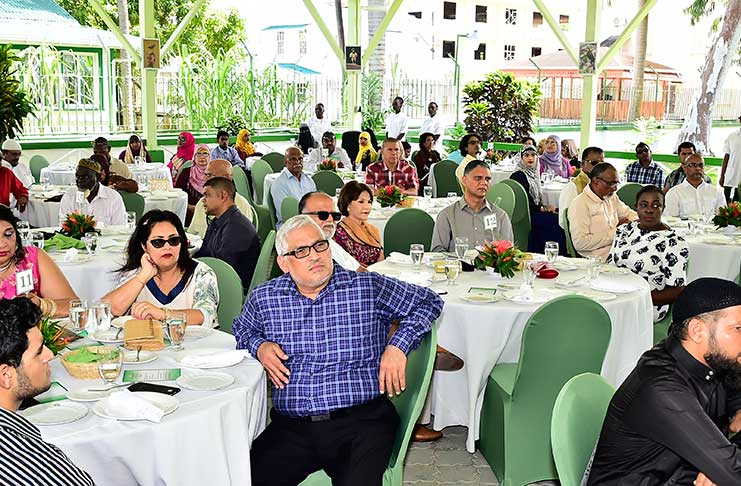 These sentiments were echoed by Head of the Central Islamic Organisation of Guyana (CIOG), Shaikh Moen ul-Hack, who said the definition of patriotism is embedded in the teachings of Islam.
He said Guyanese are blessed with a legacy of peaceful co-existence, which they inherited from their ancestors and which political leaders laudably continue to uphold.
Meanwhile, Social Protection Minister Amna Ally said the event helps to foster improved relationships not only among Muslims, but the Guyanese society at large.
The minister noted too that Islam is a religion of peace and that today's occasion presents an ideal opportunity for all to recommit to working together for the development of Guyana.
"Ultimately, at the end of the day, we would like to see Guyana having a cohesive society. I would, therefore, like to urge my Muslim brothers and sisters to emulate togetherness in the Guyanese society. This would allow for our relationship to become stronger," she said.
Eid-ul-Fitr, which marks the end of the Holy Month of Ramadan, was celebrated in Guyana on June 25. (Ministry of the Presidency)