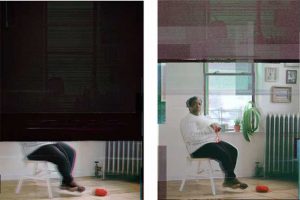 THE Caribbean Cultural Centre African Diaspora Institute (CCCADI) recently opened its doors to an exhibition of works by an inter-generational group of Guyanese artists working across various media to deconstruct ideas of space and movement within the context of displacement and national identity. The exhibition, aptly titled Liminal Space, was curated by Grace Aneiza Ali and represents her sustained interest in engaging with artists (both emerging and established) who not only wrestle with those ideas but who have also found ways of navigating the conflicting feelings often attached to them. Through their individual bodies of work, each artist has, in his/her own way, attempted to unpack the complex narratives of migration, bringing into sharp focus how perceptions of individual and national identity are continuously undergoing transformation.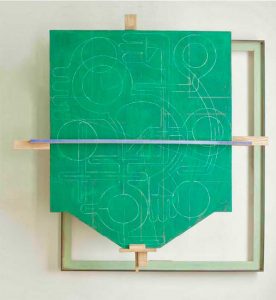 In a text outlining the framework of the exhibition, Ali explained that the number of Guyanese living outside Guyana far exceeds the number living within the country's perimeter, a trend of movement she traced back to the 1960s. This physical shift away from "home," however, does not discount or remove the emotional ties to the space. In fact, most times those ties are strengthened in an attempt to hold close that precious connection as they brace themselves to weather the challenges of what it means to be a migrant, particularly from a region often considered "peripheral."
"Liminal Space speaks to the emergence of the Caribbean diaspora in global metropolises. In fact, it is intentional that a majority of the artists
featured in the exhibition live in the Tri-State Area around New York City—to reflect the region's evolution as home to the largest Guyanese community in the diaspora. Yet, while the artists narrate experiences specific to Guyana, they simultaneously unpack universal tensions—the act of migration as a constant site of engagement and what it means to be an immigrant in our 21st century world," Ali said.
In July of last year, Ali curated Un|Fixed Homeland, an exhibition of photographic and photo-based works mounted at the Aljira Centre for Contemporary Art in Newark, New Jersey. This exhibition has, in many ways, laid a sound foundation for the multiple considerations of the relationship between land and body currently on display at CCCADI.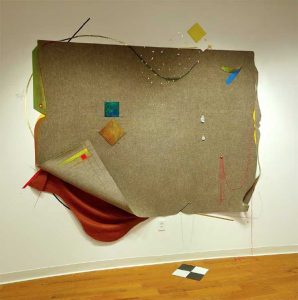 The notion of a shifting "physical place" and "psychic space" of "home" that was central to the previous exhibition has been carried through and perhaps could be read as having developed out of an exploratory first engagement with those existing tensions. Neither show was meant in any way to be conclusive presentations of the "Guyana migratory experience," just as no similar endeavour is ever meant to be. Instead, what they both have presented viewers with is the opportunity to bear witness to the unfolding of a small selection of personal histories of self and citizenship.
In a less personal and more collective or national context, Guyana like many countries from the region, has a long and tangled history of movement (forced and voluntary) to and from its shores. It is precisely this history that Ali mines through the works of the 16 exhibiting artists, in an attempt to offer more "restorative narratives," as she describes it.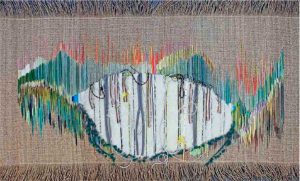 "The artists in Liminal Space represent both spectrums of migration: the ones who leave and the ones who are left. They tease out symbols of decay and loss, avoiding trappings of nostalgia by envisioning avenues out of displacement. While their work engages the hard truths of a country defined by constant departure and deemed 'a disappearing nation,' they equally offer restorative narratives of why this homeland is loved," she said.
Artists with work on display in the exhibition include Kwesi Abbensetts, Damali Abrams, Khadija Benn, Victor Davson, Stanley Greaves, Carl Hazlewood, Dominique Hunter, Donald Locke, Andrew Lyght, Suchitra Mattai, Christie
Neptune, Mason Richards, Karran Sahadeo, Keisha Scarville, and Arlington Weithers. Liminal Space opened on June 17 and continues until October 26 at the Caribbean Cultural Center African Diaspora Institute (CCCADI) in New York.
Guyanese-born curator Grace Aneiza Ali is the recipient of the Andy Warhol Foundation for the Visual Arts Curatorial Fellowship. She has spent her fellowship researching the canon of contemporary Guyanese artists, which still remains largely unknown on the world stage. Ali is a faculty member in the Department of Art & Public Policy, Tisch School of the Arts, New York University and the Editorial Director of OF NOTE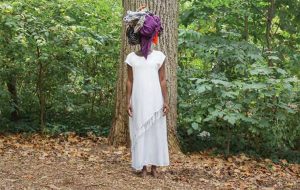 —an award-winning online magazine on art and activism. Her essays on contemporary art and photography have been published in Nueva Luz Journal, Small Axe Journal, among others. Highlights of her curatorial work include Guest Curator for the 2014 Addis Foto Fest; Guest Curator of the Fall 2013 Nueva Luz Photographic Journal; and Host of the 'Visually Speaking' photojournalism series at the New York Public Library's Schomburg Center. Ali is a World Economic Forum 'Global Shaper' and Fulbright Scholar. She holds an M.A. in Africana Studies from New York University and a B.A. in English Literature from the University of Maryland, College Park.