Businessman and active cricket lover, Azad Khan
By Frederick Halley
THIRTY-SEVEN years after migrating to Canada from Canal Number One, West Bank Demerara, Guyana, 65-year-old Azad Khan is into the business of designing and manufacturing liquid-filled power transformers, grounding transformers and speciality transformers in Canada.
Having already served almost 34 of those 37 years at Northern Transformer, situated in Maple, Ontario, Khan has been given the green light to "carry on" at the company since his expertise is in demand and, according to him, retirement isn't on the horizon.
Northern Transformer was founded in 1981 to fill the growing demand in the Ontario market. The quality and robustness of the power transformers soon caught the attention not only of Canadian utilities, but farther afield.
Since its establishment, Northern Transformer is credited with supplying the North American utility market with over 500 transformers, which include Substation transformers, Generation step-up transformers, Autotransformers, Specialty station service transformers and Single-phase transformers.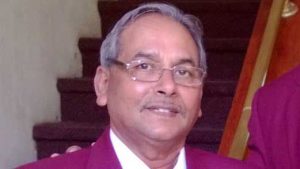 Starting his "journey" in 1983 as a general labourer, Khan has risen to the position of supervisor and is mainly responsible for the training of new workers at the plant, which has since expanded into a new state-of- the-art facility nine months ago.
For the love of Cricket
A man for all seasons, Khan also wears several hats among the cricket community in Ontario, serving as secretary for both the Canada Cricketers Umpires Association (CCUA) and the Scarborough Cricket Umpires Association (SCUA). He is also a qualified West Indies Cricket Umpires Association (WICUA) umpire, who is still actively involved in matches staged by the Scarborough Cricket Association (SCA) and the Ontario Softball Cricket League (OSCL).
As secretary of CCUA and member of the Education Committee, Khan is also one of its Cricket Umpires Training instructors since 2006 and conducts both oral and theoretical classes throughout Ontario, which includes Scarborough and Ottawa.
According to Khan, his objective is "to lead and manage the organisation to achieve its stated goals and objectives and this could only be achieved through teamwork, effective communication, good interpersonal relationships and excellent decision-making.
A highly self-motivated team player, Khan's exploits in umpiring on and off the field have been quite phenomenal. Apart from being secretary of the CCUA and SCUA and member of the Education Committee of the former, he was also the secretary and planning chairman of the Toronto Cricket Umpires & Scorers Association (TCU&SA) from 1995-2008.
In 2002, Khan was awarded Umpire of the Year by the Toronto & District Cricket Association (T&DCA), the same year he also received accolades from the TCU&SA for his dedication to service.
As an active member of the WICUA, Khan was mainly responsible for the setting up of the association's website and Facebook page and along with its President, Basdeo Dookie, is expected to feature prominently at the annual convention, set for the University of the West Indies Jamaica campus from July 1-8, where he (Khan) is highly tipped to become the new Public Relations Officer (PRO).
Khan's resume as an umpire includes officiating as the third umpire in an International Cricket Council (ICC) Under-19 game at Maple Leaf, Toronto; standing in Under-19 games featuring Canada and Bermuda and being in charge of T&DCA Premiere final in 2001.
Khan has also volunteered his service in several cancer-related and Heart and Stroke Foundation related games, as well as officiating in Guyana's independence celebrations, Ontario Cricket Association (OCA) and several high school matches over the years.
Life in Guyana
Prior to leaving Guyana in 1980, Khan disclosed that he represented McGillvary Cricket Club as a right-hand batsman and medium-pace bowler with some amount of success, but has since decided to concentrate on the administrative aspect of the sunshine game.
Before migrating, also, Khan played a major role in his family's business– a parlour– next to the Starlite Cinema which was situated at Pouderoyen, West Bank Demerara. Khan said his family was also well into farming at Canal Number One with pines and ground provisions included among their crops.
Though living away from home, Canal Number One remains near and dear to Khan and he has been a member of the Canal Number One Reunion Planning Committee in Canada for the past 20 years. The committee is responsible for the staging of the annual picnic held during the summer holidays. This year's activities are set for July 30 at the Thompson Park, Scarborough. Another former Canal Number One resident Michael Mangar heads the committee.
A product of the then Muslim Educational Trust College, Khan has no intentions of slowing down either in the workplace, on the field as an umpire or as an administrator in the near future, and he assures that Guyana remains a special place in his heart, as it will always be home.