— British American Tobacco Caribbean
HEAVY taxation on tobacco products will allow the illicit cigarette trade to increase exponentially, resulting in a dramatic decline in legal cigarette volumes which means less government revenues in a declining legal market.
This was the view of British American Tobacco Caribbean (BATC) Senior External Affairs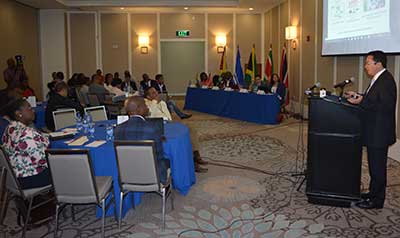 Manager, Cesar Agurcia who was at the time speaking at the Anti-illicit Trade Regional Conference held at the Marriott Hotel.
Recent estimates by Global Financial Integrity places the total at US$650 billion for goods and US$2 trillion, if illicit financial flows are included in the illicit trade.
Agurcia said Guyana statistics have shown that the illicit cigarette trade has increased over the years and the ongoing transfer of volumes from the legal to the illegal trade is due to affordability issues stemming from the hikes in excise.
The senior manager said the illicit economy has seen unprecedented growth and has etched its way into all aspects of society, which is a cause for serious global concern.
The illicit economy affects businesses, governments, civil society and individuals.
Underscoring that illicit trade involves money, goods or value gained from illegal and unethical activities, Agurcia said over the last few year the illicit cigarette trade has grown tremendously.
He said in some countries the illicit trade is responsible for 70 per cent of consumption, making the legal markets unprofitable.
Adding that illicit trade is a national security issue, Agurcia said the profits from such trades go towards organised crimes.
"The real profit of this business is going into dangerous hands," he said.
Noting that government lose millions of US$ in taxes because of the illicit trade, Agurcia said not only tobacco industries are suffering from counterfeit products flooding many markets, but all sectors of commerce.
It is estimated that there are over 200 different brands of illicit cigarette in the global market, many of which come from China and India.
The senior manager said the smuggling of goods is often linked to smuggling of weapons, people, sex slaves, drugs and counterfeit products and contraband.
He explained that another major danger is the counterfeit and poor quality products with no government regulations or standards. This, he said, places a higher health risk on consumers rather than the legal cigarettes.
Adding that cigarettes are the most commonly traded products on the black market, Agurcia said the profits remain high while penalties remain low.
He explained that there is need to increase penalties for such crimes while creating a special unit to enforce and tackle all illicit trades.
BATC Head of Legal and External Affairs, Christopher Brown said the illicit trade of cigarettes has received international attention in all spheres.
He said Guyana, Suriname and Trinidad alone are responsible for US$300M of illegal inter-country trade in illicit cigarettes.
"Suriname, based on current trends, is second to Panama in the quantity, value and relative percentage of illicit trade in cigarettes that are sold within the Caribbean and Central America," Brown said.
He explained that the illicit trade is organised and transnational in nature, and as such, it has the power to corrupt many border collection and revenue security processes.
Brown said modern tools and systems are being used to smuggle the illicit cigarettes beyond borders. He contended inter-customs collaboration is needed between countries in order to track and confiscate illegal products at their ports of entry.