IN observance of National Rehabilitation Week 2017, Minister of Public Health, Volda Lawrence, on Wednesday pledged government's support to the Ptolemy Reid Rehabilitation Centre in helping to improve efficiency at the institution.

During the brief visit, the minister said she was delighted at the programmes being offered at the centre. "The institution is providing a service that is not catered for in the education system to our children with special needs," she remarked while highlighting that many of the children who come for care in the institution, gain employment with the centre after.
Minister Lawrence was informed however by the Administrator, Cynthia Massay that the facility was not without its difficulties. While speaking to members of the media, the minister said, "I have advised management [of the centre] to write me on those issues so that I can address them."
In the meantime, she affirmed that she will be providing support. She highlighted "smoothening" the process of receiving donations via the Health Ministry and the Finance Ministry.
Another form of support will be to foster collaboration between the Ministries of Public Health and Social Protection, so that better services can be provided to the rehabilitation centre.
Functioning previously as the Minister of Social Protection, she asserted that the Ministry has many available services but according to her, "there seems to be some clog in the process." Minister Lawrence stressed that those services are not being provided in a timely manner.
During the visit, she recognised that the National Orthotic and Prosthetic Appliance Workshop at the centre caters for Guyanese in all regions but acknowledged that she will be seeking to modernise the facility and improve the value of the products, while lowering the cost of the services offered.
While the organisation receives an annual subvention from the government, the Minister still implored all entities to show support to the non-governmental organisation.
In observance of National Rehab Week also, a pilot project has been launched at the Georgetown Public Hospital Corporation (GPHC) which seeks to test the hearing of each newborn baby.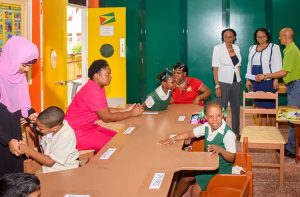 The Guyana Chronicle was informed by the Director of Disability and Rehabilitation Services of the Ministry of Public Health, Ariane Mangar, of this initiative.
"What we plan to do, is to have every newborn screened before they are discharged," Mangar said. The director related that screening from an early age allows for the alleviation of hearing problems later in life. "If we can detect it [hearing disabilities] early, then we can treat them with the necessary things," she noted.
Early detection would enable professionals to engage in speech therapy or begin using hearing aids on the children, rehabilitate them as soon as possible, and thus not hinder their access to education.