Tucville, Sparta Boss set up 'dream final'
TWO of the most skilled teams in the tournament, Sparta Boss and Tucville, after easily disposing of their opposition on Thursday in the semi-finals, will collide tonight in the final of the inaugural Xtreme Cleaners/GT Beer Gold Rush Futsal Championship at the National Gymnasium.
With $500 000 up for grabs, tonight's contest will be nothing short of 'fireworks', especially since Tucville's aim is to dethrone Sparta Boss; the touted 'Kings of Futsal' in Guyana.
Jermain Junor, who is the tournament's leading goalscorer, improved his tally to nine after scoring a hat-trick and along with Dennis Edwards, helped Tucville defeat Sophia 6-4 in a nail-bitter.
Junor scored his goals in the first half, netting in the 4th, 7th and 14th minutes of the contest. Edwards scored his first of three goals in the 5th minute while Omallo Williams, who finished the night with a brace, scored his first in the 6th minute as Tucville ended the first half leading 4-1.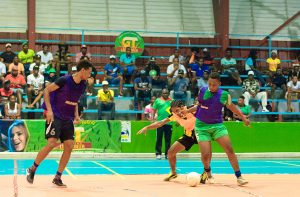 In the second half Sophia played with more purpose, but Edwards scored two more goals (30th, 24th) for Tucville, Williams converted in the 32nd minute to start a comeback for Sophia, much to the delight of the large crowd.
Desmond Cottam (35th) and Stephen Dolphin (36th), scored to push Tucville in the defensive position, but time was not on Sophia team's side.
Meanwhile, for Sparta Boss, it was a walk in the park, as they trounced Albouystown 5-1. The game was far from competitive as Sparta Boss and their ever-reliant players made rings around the inexperienced Albouystown team.
Eusi Phillips (2nd), Solomon Austin (7th), Gregory Richardson (23rd), Devon Millington (25th) and Dennis Edwards (29th) scored a goal each for Sparta Boss. Lennox Cort was the lone goalscorer for Albouystown in the 28th minute.
Albouystown and Sophia will open tonight's proceedings where the winners will pocket $100 000 and the team finishing fourth will have to settle for $50 000. On the individual side, $50 000 will be awarded to the Most Valuable Player (MVP).