Delving further into the unknown
By Kerry Nicholas
WE continue this week with Part Two of the series as British Tourists Kerry and David Nicholas explore Guyana on their own, discovering, as they go along, Guyana's unique and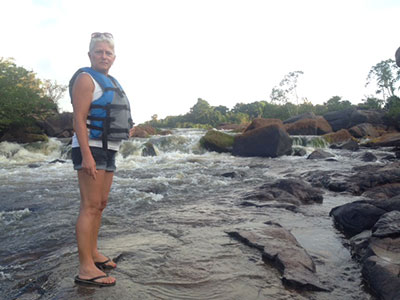 fascinating culture.
It had taken us a week to plan an independent journey to the interior that would probably have taken an hour through a travel agent.  We had to leave out destinations like Karanambu Lodge, where world-renowned giant otter expert Diane McTurk, had an otter sanctuary, simply because it was too expensive for us, or too difficult for the Lodge to pick us up from the Lethem road.
Our next big mistake was that we wanted to save four percent by paying for our flights in cash. We were assured we could pay for the flight to Lethem in cash at the airport, but we found ourselves bumped off by people who paid by card. A nail-biting wait at Ogle airport ensued. We counted each of the dozen passengers as they checked in and half an hour before the flight was due to leave, we were rewarded when two people didn't show.
We were off! Soaring above Georgetown, we marvelled at the neat grid system of the city's roads. London is a swirling mass of intertwining streets laid out haphazardly since medieval times. Georgetown reminded me of New York without the skyscrapers.  I marvelled at the majesty of the Demerara and Essequibo rivers as they wound their way through the broccoli forests of the South Pakaraima in Region Eight and North Rupununi districts in Region Nine. We saw the scars in the forest from the mines and the logging. Even the smallest bonfire could be seen miles ahead as it wafted thin ribbons of smoke high into the sky.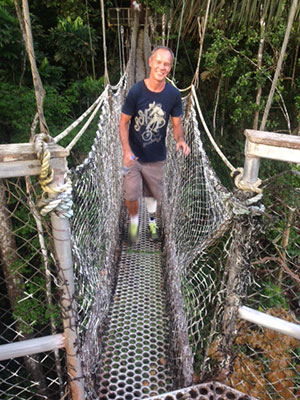 Orlando from the Amazonas Hotel caught our eye at the Lethem airfield and persuaded us to stay at his place — with promises of good WiFi and iguana curry.  In order to get the feel for the place, we took a walk along the flat and dusty roads peppered with Chinese retail warehouses. I could see the appeal of Lethem to Brazilians from Boa Vista, who can now drive over the new bridge from Bonfim, across the border, to buy cheap consumer goods.  But we had no room in our backpacks for fake handbags, electrical goods or souvenirs.  We wondered what else there was to do. Orlando's mate Craig said he would take us to Kumu Falls which were beautiful, but he was no tour guide and we got lost on the way.  Then his four-wheel drive got stuck in the mud. Orlando had to come and rescue us.
We had seriously considered hiring a four-wheel vehicle to get to Iwokrama Lodge. I would have to drive because David doesn't have a left foot for gear-changes.  I imagined the freedom that having our own car would give us and as there was only one road, we didn't think we could get lost. What's more, Guyanese drive on the left, don't they?  Just like in England.
There were no hire cars in Lethem.  We found a willing driver with a comfortable 4×4 and set off. After seeing how easily Craig got stuck in the mud, I was glad he was at the wheel but was amazed to see he drove not on the left, but all over the road in an effort to avoid the potholes, ridges, furrows and rocks.  The road had no true shape. It narrowed then widened then sloped, as red stones slid across the dusty surface.  Our driver didn't seem at all surprised when, 15 minutes into the journey, we saw a Jeep upside down in the bush with its passengers squeezing from a flattened roof through its smashed windows.  I was amazed to see them emerge, bruised and shaken, but otherwise okay.
Of course, we stopped to help.  I learned that all Rupununi residents look out for each other on these roads.  Only three other vehicles came by on this treacherous stretch, but they all pulled up to offer assistance. A true outback spirit! The men worked in unison to turn the huge car back over and tow it back on the road. Cheerful farewells and we were on our way again. "Oh, it happens all the time," our driver said offhandedly.
We travelled through Region Nine, passing the majestic purple Kanuku Mountains and into the savannah and rainforests and Amerindian villages of the North Rupununi District.
We got to the Surama Eco-Lodge before dusk and were welcomed by Jacquie Allicock, daughter of Mr. Sydney Allicock, Guyana's Minister of Indigenous People's Affairs.  She acknowledged that we were not on a tour, had a tight budget and did not have an itinerary and she and her team still made us feel like very treasured guests.
The Makushi are a Savannah people living close to primary rainforest, palm swamps, oxbow lakes and meandering rivers.  Industry is absent. Cattle dot the grasslands.
Jacquie explained that "progress" and "development" have threatened to inundate the Rupununi and wreck the equilibrium. We got the idea that gold mining, oil extraction and large-scale agriculture threaten the rich bio-diversity of the area. The Rupununi is home to 1400 species of vertebrates and 643 species of birds. Extreme care is needed to minimise the impact of extracting these natural resources.
The decision to build Surama Lodge specifically for tourists is a positive community initiative. Each village is led by a Toshao, but all important decisions are taken at the community level. Surama Lodge is a well-organised and commendable attempt to encourage sustainable ecotourism as an alternative source of income for the 30 or so village communities in the region.
Our guide, Milner, took us for a walk before dinner through the rainforest and we marvelled at the nine-inch-long millipede, the huge caterpillars, toucans and capuchin monkeys and the sound of numerous other animals and birds settling in at dusk. We chose to sleep in swaying hammocks set up in the deserted bar area above the dining room with exhilarating views across the savannah to the Pakaraima Mountains. As I fell asleep, I got a sense of why it was so important to preserve one of the last great wildernesses in the world.
Part of the ecotourism project is to encourage tourists to visit the nearby primary school. The information foreigners share with the children gives them a wider perspective of the world. I went in with all good intentions of telling the children about the four distinct seasons we get in England: spring, summer, autumn and winter. But all they really wanted to know about was David's false leg. He gladly obliged the elder class by sitting down and removing it.  In an instant, every class had abandoned their section and crowded round to watch as well. The teachers took photos and the boys called David "Bionic Man" and "Superman."
They had never seen a leg that ended below the knee before, nor a prosthesis. We realised that this was the same in Georgetown. People we saw without a leg, used only cumbersome crutches to get around, whilst David could walk normally.  What a difference a National Health Service makes to the lives of poor people in the UK. Here we were, travelling around South America without a care when other people find the loss of a leg can ruin their lives completely.
Next stop was the protected Iwokrama forest. We stopped at the Atta Lodge — once just a hammock stop — now an upmarket rainforest lodge next to an aging yet magical canopy walkway made of creaking metal and rope. One of the main supporting trees had fallen in a storm taking a section of the rope bridge with it, but one of the 10-metre-high platforms allowed us to see spider monkeys feeding and playing in the trees at dusk.
We arrived at the Iwokrama International Centre for Rainforest Conservation and Development just in time for dinner at 20:00hrs.  The Centre was established following an idea born out of the 1989 Commonwealth Heads of Government meeting.  This flagship environmental project is the first in the world to find ways to develop tropical forests to reflect the needs of the forest itself, as well as the people who live in them and provide a balanced commercial approach to business, which properly serves the local people in the medium and long term.
Sadly, rainforest degradation continues hardly unabated and the role of Iwokrama remains crucial to determine whether controlled deforestation actually works.
We were happy to be a part of that push towards ecotourism, and even in a small way, it felt good to pay for rainforest walks or boat trips to see the rapids and the 5,000-year-old petroglyphs, or to stay at the lodge knowing that we are helping to support the local community.  But the place was virtually empty, and it could be so much busier if the roads were better, transport more frequent and prices more affordable to allow more independent travel and organised tours from abroad.
We dreaded the minibus back to Georgetown. But that's what you get for economising. We had to be up at 04.30hrs to get one of the several buses, all crossing the Essequibo River at the same time –- 06:00hrs. I sat above the axle next to a huge and talkative Angelique who had seven bags of shopping at her feet, which meant she had to stretch her legs over mine.  On my left side was a large lad who slept on my shoulder with his legs apart.  Angelique talked at us the whole way through slurping fingers as she ate a bewildering collection of pungent food from polystyrene boxes. We all had to get out of the minibus twice to push the van out of the sand and the driver's eyes got more staring and his temper more flared as his lack of sleep battled with the intense concentration needed to speed along the pot-holed road for nine hours.
I was thrilled when Angelique and her shopping got off at Linden. The scent of sticky chicken lingered in the upholstery. I slid into her vacant seat. Once the driver hit the tarmac road he turned into a madman on the highway.  So I closed my eyes and somehow we made it back to Georgetown.