Guyana Goldfields Inc. committed to sustainable development
By Jasmaine Payne
"THE impact of human activities is some 10 times that of natural and solar factors. The fear is that our influence will cause irreversible catastrophes." Intergovernmental Panel on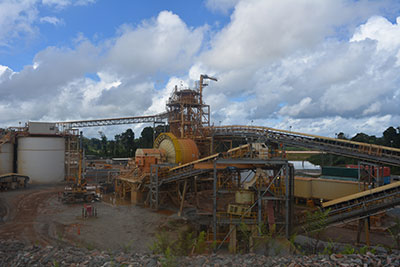 Climate Control
AS the world faces the reality of the adverse impacts of climate change, it has become clear to many that we can no longer continue to operate without considering how our actions will impact the environment and the lives of people. As such, the concept of sustainable development, that is, ensuring that growth and development are continuous while still protecting the environment, is one which many corporations have begun to make part of their policies.  This, therefore, aligns them with the goals of the countries within which they operate, as more and more, Governments, including Guyana's, have come to make this a primary focus.
A shining example of corporations which have begun to align their operations along a sustainable, environmentally friendly path can be seen in the Guyana Goldfields Inc. operations at the Aurora Gold Mine in Region Seven. Guyana's mining sector is a critical income earner for the country, with sugar, bauxite, rice and gold accounting for up to 75 percent of the country's earnings. Here, the need for sustainable development can be seen: how can the country continue its operations in the ever valuable extractive sectors, while protecting the environment?
General Manager of Guyana Goldfields Inc., Thomas Henderson, said that the company ensures that protection of the environment is considered every step of the way in their day-to-day operations. To ensure this, the company has full-time staff constantly monitoring and reporting on the company's practices to ensure that the environment is kept intact.
"We do our recording to the EPA [Environmental Protection Agency's] standards then the EPA comes in as well as the Guyana Geology and Mines Commission [GGMC] to review those statistics and results. We also have a third-party company monitoring what we do and ensuring things are up to standard," he said.
Sustainable practices
Henderson said that the concept of sustainability is a commitment that the company has made as part of operating in Guyana, but more than that, it is in keeping with Guyana's policy as well. "The standards of the country are similar to the standards that you would find in North America, so that's good. There are other countries where they may set a standard but either they are not enforced, or there are ways around them and here, fortunately, in
Guyana, they are aligned with each other," he said.
But caring for the environment is also one of the company's core tenets, as the company believes that environmentally sound practices and sustainability practices are the best operating procedures. "It's no different from safety. If you have an unsafe mine, you have a bad mining operation. If you have an environmentally non-compliant operation, it is not a well-written operation as well, so you set those standards and guidelines. It sets the tone and the tenet for how you continue to operate and report," he said.
Beyond the environmental aspect, Henderson said that sustainability is also seen in the development of human capital. The Aurora Gold Mine operations employ over 800 regular employees and contractors, of which about 96 percent are Guyanese. These persons are trained according to international operating standards.
"So they are developing skill sets that perhaps they didn't have before coming here. And that's 800 today, but not the same 800 that was here two years ago. So you're creating more talent that, whether they are working here or someplace else, they are now deploying skills that you don't have to import; you're using your own people, so your country as a whole gains in the sustainability," he said. Additionally, he said that some of those skilled persons may opt to leave the country, and many of them would send their receipts back to their country or return over time and contribute to its development.
Wildlife Refuge
Perhaps one of the telltale signs of an environmentally friendly operation can be seen in the active presence of wildlife. Henderson said that Aurora Gold Mine was becoming a "wildlife refuge," which suggests that the animals feel safe enough to settle even among their operations. "We do baseline surveys on the wildlife that are here…we evaluate bird life, mammal life, flora and fauna, then we compare it from then to now, then we do it on an annual basis and through these annual updates, we are picking up an increase of wildlife and not only just wildlife, but the top of each of the species' chains.
"Now, we have big cats that are quite frequently seen here;  we have the eagles, the large predators that are coming in, that perhaps either weren't observed before or they are finding this to be a safe place, in that they are not hunted as bush meat, so we manage that and we report on that," he said.
Henderson boasted about some of the other environmentally friendly practices that the company observes. "With regard to the water discharge, anything that we touch here is discharged at near drinking water standards into the environment, so we are not putting an impact on the environment that is adverse.
"The clearing and grubbing of topsoils ahead of disturbance, we stockpile that so once it is done we can then reclaim those areas and put topsoils back in to start the re-vegetative process. Air quality and air-quality management; we still control our emissions and we clean our emissions prior to discharge," he said. All this is topped off by educating the workforce about environmental standards, so that they can work in sync with the company's practices.
Solar energy
Of course, the utilisation of renewable energy comes hand in hand with environmentally friendly practices, and Henderson revealed that the company was already looking at this option as well. At the Aurora Gold Mine, the company generates its own power, but this may soon change. "We continue to look into opportunities on the green energy side. It's a lot of power out here. Our biggest challenge is that for green power to work, you need to connect to a grid because you can generate power when the sun is shining, but when it's night time or it's cloudy your ability to do 'solar gen' is gone and you are back to your base load that you have to live on," he said.
Additionally, the requirement to build a solar farm for a large-scale operation would involve clearing away a large space of land (up to 25 hectares for about eight megawatts of solar power).  "We are looking at starting with a smaller amount, like 'half-meg' solar plants at Buck Hall, where it's going to be around forever.
"When we look at that, see if that works, we start looking at opportunities here to put solar panels on the base of the camp… so we would run solar energy into that during the day," he said.  According to Henderson, the design site at Buck Hall is already completed and the actual project could be completed in less than a year.
Underground mining is also on the company's agenda and is another mechanism which can help to protect the environment. Underground mining will avoid the disturbance of larger tracks of land and pulling down vegetative cover will be reduced.
Guyana's beauty
Even as the company continues along its path of sustainability, a mere visit to the Aurora Gold Mine operation would tell you how difficult it would be to do anything but honour and protect the environment. Even among all the man-made stamps that the mining operation has called upon the site, Guyana's natural beauty overpowers it still.
Henderson, himself, has spent 20 years mining in other countries, but expressed that he was proud that the people of Guyana had significant respect for their environment.
"I have been disappointed by some of those locations, how they would devastate their rainforest and they would just have unregulated small-scale mining using mercury, and chopping down trees and sending out logs to other countries without giving added value to them, but my first impression coming to Guyana is that, 'My gosh, here is one country that has not made the terrible mistake that so many countries have.'
It is still like a natural rainforest; there are still the beautiful forests and the trees and the Government actually takes a lead in that; in helping to control how harvesting takes place. So from that standpoint, I have been incredibly impressed and blessed to be here," he said.