"After travelling the world a little with Dynamic and seeing little pieces of it, I decided I didn't want to be flown anymore — I wanted to learn how to fly this thing!"
In looking at a video documentary of an eagle's flight, the question was asked: "Why does the thrill of soaring begin with the fear of falling?"
And even as a young Guyanese took to the shelf-less horizons as a flight attendant, her true destiny was discovered in the cockpit of
Dynamic International Air, and now she's on a journey up the ladder of endless possibilities.
Twenty-year-old Amber Low reminds me of an eagle! For the commercial pilot employed with Roraima Airways and the youngest female pilot in Guyana, much excitement comes with flying.
The daughter of renowned Gynaecologist, Dr Guy Low, from girlhood she stood with great men and boldly witnessed surgical and other medical procedures which had caused her to believe that the familiar would become her professional pursuit.
She originally wanted to become a medical doctor. After being schooled at home for quite some time, Low started school finally at Grade 5, where she began socialising with a wider cross-section of people.
Being on top in her education, she was always one step ahead of her peers. She finished school too and after securing Advanced Level passes at the age of 17, through Nations University, she was still too young for Medical School. So Amber said she needed a year to discover something new.
"I don't know if I have this commitment (for) Meds school) and I was like I need just one year. And then I decided to be a flight attendant. I began working with Dynamic International Airways in 2015. Dynamic gave me something that I think is vital to every young person, that is, exposure. It let me have the opportunity to experience new cultures, meet new people and definitely widen my horizons… It kick-started all that I knew I wanted to become and for that I will always truly be grateful for the opportunity that I was given," she said.
The day she stepped on the plane and experienced what it is to be flown the world over, she felt she was ready to take control, taking to her own choice of space the world over.
Training as a flight attendant has imputed in her a greater sense of passion to understand and fulfil the needs of all in her care, while she too was in someone else's care. And, being the youngest flight attendant, humility tried to cushion her but her go-getter personality wouldn't let her stay put.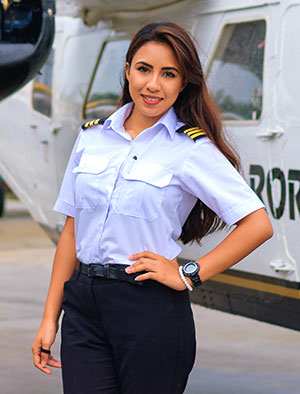 "Being a part of a cabin crew is something truly remarkable… Being a flight attendant is extremely important. It is your job to keep more than 200 people safe in your cabin at 34,000 feet above the ground, while you're a representative your country. You were the first thing a tourist or maybe someone returning to Guyana after being away for a long time, sees, and experiences of Guyana. You are now a young ambassador of your country."
But after six months on the job, that period of transition came and it was time to step down for the greater climb.
"I love meeting people and it was definitely a new experience. If I go travelling to a new place I don't wanna see what tourists see, I wanna be with the locals; so it was a huge experience, but it got boring. For me, I couldn't just be doing that one thing, I needed more. I'm never comfortable in just one place. I learn to take my time in life, but I don't stay comfortable."
That is when she became certain of what she was born to do and her path changed in ways she calls 'divine.'
"Sometimes in life you think you now have your own path and it's just set for you and then it just kinda steers you in an entirely different direction. It found me I didn't find aviation. It really did find me."
One of the pilots at Roraima took her on a flight to view the majestic Kaieteur Falls and asked her then if she wanted to "hold the controls."
"I said yeah! I now work with Roraima Airways along with some of the most skilled and talented pilots I have ever known," Low said in an interview with Pepperpot Magazine.
It was our second time talking and 'cheerful' is the one adjective I can grab for the young pilot.
She said although Captain Gerald Gouveia Snr found it a little difficult letting her go from the Dynamics cabin, he agreed too that flying would be her actual destiny. Training in Miami, Florida, was an adventure, one which allowed her to dance halfway between earth and sky.
She spoke of days when those in control would cut the engine off while she as the pilot in training is being asked, "What you're gonna do next?" She spoke of times when the aircraft turned vertically and at just 2000 feet in thin air, it dropped at a speed.
Lifting and flipping her hands, she chuckled, "They bring it up like this and it flops down, and then you're no longer looking at anything else but the ground and you're seeing yourself going down."
After training for months in Florida, she returned a month ago today – May 11 — and was rehired by Roraima Airways, this time as a commercial pilot, wearing three stripes on both her shoulders.
She now experiences a major difference in her responsibilities and is filled with excitement when it's time to report for work.
"It's exciting! Every day is definitely a new adventure! I always like to be in control… it's really important to see what it's like behind the scenes. Before you get your wings, what is the process? Most pilots, you're flying you know what you're doing, but you don't know what the engineers or the flight attendants are going through. You don't know that life. But for me it was very important to have it well-rounded. So being flown it was a calmer experience.
"Most things that they would do, you have a little scare because somebody else is doing it. You don't really know what's happening, you just going on with it and I'm not the person to go along with anything. It's a lot calmer. It's a calmer life."
"Flying, on the other hand, you're in control of your life and everyone else on board – every single other person. There's so much going on at once – calculations, radios, you have to know that 'I'm at this spot in the world, in the air.' There's nothing to tell me where I am except maybe a computer or like these coordinates that you made yourself. You're in control of everything and all at once… It's exciting and it takes a really strong person."
The nature of the flights and destinations traversed daily calls for much skill and focus, even as the Guyanese pilots fly deep into the jungle on runways, some of which seem almost impossible to manoeuvre, delivering food supplies, medical supplies, and saving lives on a 24-hour call.
"And you know we do it with a purpose… It's not just taking somebody from point A to point B, it's always with a greater purpose – save a life or taking in supplies for people, food or whatever they need… We fly deep into the jungle and to the tiniest little runways to deliver food and supplies to our people. And at nights, even on the stormiest ones, we go on medical evacuations to save lives. It is superhero work as I'd like to call it.
"Guyana is one of maybe two places in the entire world that has runway conditions like we do. We really do have a tree over there and a pothole over here and maybe when we land there are kids playing maybe right in the football field at the other end of the runway, so there's no room for error when flying in Guyana. That's why we're being trained for this. And that's how it is in Guyana, it's so strict. There is really no room for you to mess up. Everything has to be on point. You have to land at a specific point every single time, or something goes wrong."
Apart from being a commercial pilot, she is Roraima's brand manager and marketing officer and one of the pilots assigned, not only to commercial flights, but also to medical evacuations in collaboration with the Ministry of Public Health. And one would believe that at the age of 20, she already has an overflow of professional responsibilities, but this is not where it ends for Amber Low.
She plans to return to Florida to do her Flight Instructor rating, and pursue degrees in the field of Business.
"I'm always thinking 'What's the next step?' Like now I'm a pilot, what can I do next? Something I can do academically and in my career. My next step is to be a captain and then hopefully get my ATP licence. I'll definitely never just stick to one thing, but I think my entire career will be centered on aviation now and probably a little bit even with Roraima."