–The making of a successful businesswoman
IN a bid to create a more vibrant business atmosphere here, the Sonia Noel Foundation has engaged a group of women in a programme titled, "Confidence becomes You", transferring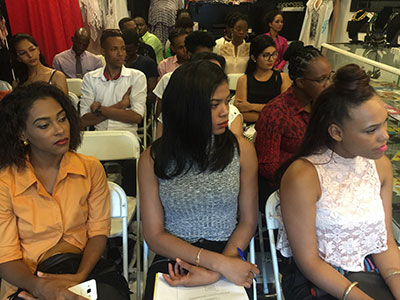 skills which they can use to take personal and professional practices, with poise, to greater levels.
According to a press statement from President and Founder Dr. Sonia Noel, the organisation recognises personal development as a lifelong process, and offers the confidence-building programme for the assessment of personal and professional skills and qualities, pressing towards the accomplishment of goals to realise and maximise potential.
The women are being prepared in areas of understanding the foundation of their core message, effective taglines, effective networking tips, unique serving proposition, time management, and how to be more effective at Radio and TV interviews.
Noel, through the statement, quotes programme participant, Simone Forde as saying: "It has shifted my mindset for the better,? and my business will be going to the next level because of the changes that will be made."
?As coordinator of the programme, Noel says that in growing professionally, it is important to instill in participants business management and leadership techniques which add value to their lives and work.
"If we truly desire to grow, it is essential to add value to ourselves?. And it was great to listen to the testimonies from participants on the effects these sessions had on them and business," she ?said.
The agency has also selected several young women and men to form part an empowering youth movement to bring about innovative and massive change and growth. The group is currently participating in a training seminar on leadership, using as its main resource the handbook titled 'The 21 Irrefutable Laws of Leadership' by John Maxwell.
After the first session of study, Noel said, "These young leaders are determined to contribute positively towards the development of our country… Before our evening session was over, persons were recognising the value of these laws, if applied."
One of the youths, Guyana Fashion Week (GFW) Model Image winner, Kenny Hercules, said that by participating in that session of the programme, he has been able to recognise his purpose.
"This training has helped me to find my purpose in life, and I am ready to go after my dreams, no matter what. It is our responsibility for the future generation to be better than us," Hercules said.
The programme introduces personal and professional practice for prosperous pursuits, and has also been extended to schools.
Those interested in learning the art of fashion can also have the rare opportunity of being trained by renowned international fashion designer, Steven Cutting and other prominent facilitators during an extension of the programme at the Business School.
Cutting, of Steven A. Cutting Inc., is a former head-designer for international pop star, Beyoncé Knowles, and has several other credentials to his name.
This part of the programme is a collaborative effort between the Business School and Sonia Noel Foundation for Creative Arts for Fashion Designing and Etiquette. Interested persons are asked to make reservation by contacting the Business School in Georgetown.
"Steven Cutting, who is a professor at the Fashion Institute of Technology (FIT) and former head designer for Beyoncé's clothing line, will be a virtual guest facilitator at one of the fashion design classes," Noel said.?
A New Yorker by birth, Cutting earned his Bachelor of Fine Arts from FIT in 1983, and worked with the design firm, Enrico Masei of Seventh Avenue, and the Italian, Anna Schpioni. He also worked extensively with fashion companies in Italy and Germany, designing for Krizia and Chiwitt before returning to the United States to head Philippe Monet Designs. He later founded his own company, Steven A. Cutting, Inc., whose clientele included Kenneth Cole, Reebok, Collage, and Pony. In 1996, Cutting became head designer for Perry Ellis America, then, years after, joined First Manufacturing Company as design director for Jimmy and Marylou and the Whet Blue Collections.
Cutting has also worked with Larry Levine and Boston Outfitters labels, and with the House of Dereon owned by Beyoncé and Tina Knowles. He has also established his own design label, Katalyst.
Cutting was later employed at the Fashion Art Department of the Fashion Institute of Technology in 2001, and in 2003, became president of the Fashion & Arts Xchange, a networking organisation for people of colour in fashion and the arts.