AKEEM Peter is one who understands that a man's bride is worth waiting for, and after his 49th proposal to the "apple" of his eye failed, persistence brought what he could safely call an accomplishment. He went down on his knees once again and Kerron Boston finally said "yes!"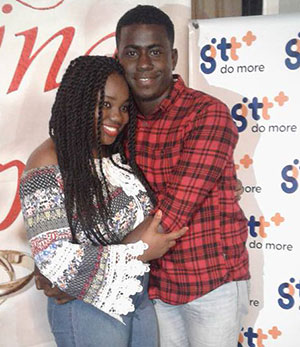 Peter met the woman of his dreams — a charismatic beauty with a charming smile — and offered her more than just the 'fish and chips' meal she felt like having that day some years ago. The two built on a relationship with him building her trust in him on his show of determination, gentle care and loyalty towards her.
On Friday night, Roraima Airways announced that Akeem Peter and his 29- year- old fiancée Kerron Boston have emerged the winners of a $3M wedding in the Guyana Wedding Expo 2017 'Race to the Altar' challenge, and the opportunity to become ambassadors of the national exposition which has now gone international.
With class and genuine love evident, the two expressed joy in being chosen over the five other couples of lovers who vied for the winning package for the March 25, 2017 wedding, and according to one of the judges, Sacha Persaud, "Akeem Peter and Kerron Boston demonstrated an outstanding commitment to each other, potential of good ambassadorship for Wedding Expo and the public's support to their relationship made them this year's winner."
"Thank you so much and I must say that I have proven God, I've proven God… I'm so excited right now, I'm overjoyed," the bride to be told the Guyana Chronicle. Her eyes lit up as she began to express gratitude to those who supported them. "I will just like to say thank you to everyone that supported us throughout this entire journey. Thank you to the persons that were behind us on the road and Bourda Market trying to get those votes in, thank you for sharing our posts, thank you for sharing our video, for liking our pictures. If it was [sic] not for you guys, we would not have made it thus far and we would not have been the 'Race to the Altar 2017' winning couple," she said.
The groom Peter explained that he had his eyes set on Boston and tried hard to get her in his own arms. He said the woman finally became interested in him when he quoted a scripture verse from Romans 8:28, that all things worketh together for good to them that love the Lord and are called according to His purpose.
The winner was announced during a cocktail reception at Roraima Duke Lodge Friday night, where the final six participating couples competed in a final leg – each couple together displaying their talent through music, dance and dramatic poetry, and enlightening the audience and judges tucked in the midst of the audience about their meeting and participation in 'Race to the Altar.'
The winning couple performed a dramatic piece offering highlights of their relationship from its beginning to the 'Race to the Altar.' It was pointed out in the drama that Peter only received the "yes" answer on his 50th proposal to Boston. Akeem Peter was thankful to those persons who have never met them but voted for the couple "because of what they saw. "And we would like to maintain the love that we have and let it grow stronger. This opportunity has made us fall in love all over again. The wedding is on the 25th of next month, so it's wedding mode instantly."
Meanwhile Roraima said, "The life stories of the six couples along with their unique talents among other criteria represented indisputable testimony to their high moral standards, commitment to and caring for each other and respect for each other, despite differing ethnic, religious and cultural backgrounds."
Roraima's Chief Executive Officer (CEO), Captain Gerry Gouveia, who co-chaired the programme, said, "Roraima Airways is pleased to see Wedding Expo living up to its brand of marrying not just the couple that won the competition, but those who are exceptional to be good ambassadors for young people."
The other five couples in the final were: Roderick Grant and Kacy Datson, Colwyn Boyle and Kittindie Pearson, Rajesh Chandrapaul and Romana Puran, Dale Thomas and Lauriel Inniss and Gregory Loo and Keisha Fraser.
President of the Guyanese-American Chamber of Commerce in the United States, Wesley Kirton; Allison Parker, Public Relations Officer and Nadia De Abreu, Marketing Executive of Guyana Telephone and Telegraph Company Limited (GTT); Savita Singh, Marketing Executive of Hand in Hand Insurance and Kester Harding, Technical Officer of The Ministry of Social Protection, all extended well wishes to the couple.
Akeem Peter and Kerron Boston will be married on Saturday, March 25 in the midst of Wedding Expo. The ceremony will be broadcasted live on the National Communications Network (NCN) and social media. Roraima said the general public is invited to witness the ceremony at the Roraima Duke Lodge, Kingston, at 5pm.