OVER the years, local art enthusiasts can attest to the continued transformation of the work of visual artist, Dominique Hunter. Indeed, her work has always portrayed an undeniable touch of ingenuity, and her talents have further allowed her to tap into myriad opportunities. Now, with her most recent success of being nominated for a month-long residency at the Vermont Studio Center, the largest international residency for artists and writers in the US, Dominique, herself, has acknowledged how far she has come, and is excited about the work that she will create there.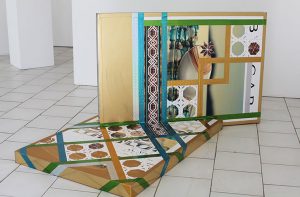 Founded in 1984, the Vermont Studio Center Residency has since hosted over 400 creative practitioners. For this most recent fellowship, Dominique is among approximately 60 artists and writers who will benefit from this unique experience. This is the second fellowship she has attended, having been part of the Caribbean Linked IV Fellowship held in Aruba last year.
RARE OPPORTUNITY
"It's a huge international community with artists and writers coming from all over the world; and it's very rare that you have the opportunity to spend an entire month growing with them," Dominique told The Buzz in an interview. "It's a very creative and dynamic environment to be in. Our networks are expanding every time we make a new connection, so there's definitely room for future collaborations," she said.
And in spite of all the opportunities being offered, it is the networking that Dominique admits she is most enthusiastic about. "It's incredibly important, as a creative individual, to be surrounded by people who have the same passion and respect for the work. It becomes even more important when you're removed from this environment and forced to go back to the reality of bills and responsibilities," she said, adding:
"Trying to find the right balance between what I have to do and what I want to do has been difficult, but having such an active group of creative friends reminds me that it's possible, and it's worth it."
TRANSFORMATION
At this point, Dominque can indeed look back and acknowledge the transformation that her work has undertaken in the last few years. Since being awarded her BFA by the Barbados Community College, she admits that her time there has opened her eyes to how she approaches her creative practice. "I had quite a lot of catching up to do, as I didn't have the same exposure as the others in my year. So, the focus of the work shifted from trying to master a specific medium that would take me through my entire career, to seriously considering the content of the work, and letting that determine the medium and materials," she said.
Having learned that, instead of limiting herself to one medium, she rather sees herself as a multidisciplinary artist; one who has both the talent and the resources to tap into many fields.
"I still love making two-dimensional works, but I also really enjoy working on large sculptural pieces. So I go back and forth between the two, depending on the project I'm working on, and what it demands of me," Dominique said.
"Recently, I've been experimenting with bridging the two by taking collaging away from its traditional support (the flat surface) and merging it with sculptural or installation art. In this way, it engages the viewer and activates the space," she added.
WORD OF ADVICE
With her wealth of knowledge, the most valuable support Dominique believes she can offer to local visual artists like hereself is advice, as she believes that any passion that is strong enough must be sought after. After all, her many fortunes began after she found that she was unsatisfied with just having a Diploma in Art. It was then that she sought her BFA in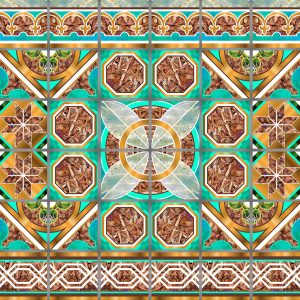 Barbados. "That was probably the single best decision I've ever made for my practice," she admitted, adding that the way Art is taught in Guyana leaves little room for the artist's growth.
"Most persons plateau at the art school or university level, and we never hear about them again; they just disappear into obscurity. And the reason for that is because we're so incredibly out of touch with what's happening regionally," she said, adding:
"Until we make that connection and bridge that gap, there's very little hope for increased representation at the forums happening around us. There have been some efforts to reignite that flame, in the form of more competitions and increased prize monies, etc., and that's great; but they don't address the root cause of the problem. You would only see stronger submissions in those competitions after fixing the way those subjects are being taught."
And so, the question arises: How else does an artist in Guyana defy the norm and make art their career, even in light of this problem? To this, Dominique replied that she still gets very anxious about her decision to pursue art as a career. "The reality is that we are among the least protected persons in the country; there is no guarantee, no policy, no pension, no benefits or anything that is ours.
"So, in addition to thinking critically about the work itself and trying to build on that, we are also constantly thinking about how to increase the sustainability of our practice," she said.
Nevertheless, her advice to artists would be to seek out knowledge about the practice, and how they can tap into resources available to them. "There's so much information out there, tailored specifically to our needs that it should be a crime to not take advantage of it," she says.
"Pay attention to what's going on around you, and ask yourself if you see yourself fitting into that picture. If you don't, then change the picture' it's that simple. If this is something you really want to pursue, then understand that the work never ends; the further along the journey, the greater the challenge. So, be prepared to put in the work."
WHAT'S NEXT?
Needless to say, in all her endeavours, it has been some time since we've last seen work from her at home, having last showed her work at the 'Redefining Women's Work' exhibition with the Guyana Women Artists' Association back in April 2016.
She admits, too, that persons have been calling on her to have another solo exhibition, but she feels that she is not yet ready for that.
In the meantime, Dominique takes to the media, through her weekly column in the Sunday Chronicle, to guide young artists using the knowledge she has gained.
"In addition to giving them the exposure they deserve by writing features, I also try to include a check list of things they would need if they wanted to submit a proposal, and tips on how to strengthen their portfolio, etc.," she said.
She has considered teaching art herself, but it is something she will think harder on further down the road, as she believes that she is still in the process of developing her own practice, and building a stronger portfolio.