-Min Henry says Brickdam replete with history
Following a decision taken in 2016 as part of the Golden Jubilee Celebration, the Education Ministry through its Department of Culture has opted to stick to the new route for the 2017 Mash float parade.
That route includes bands and contingents assembling at Stabroek Square on February 23, reveling along Brickdam and culminating at the Durban Park. In a release, the ministry acknowledged that the decision has caused some amount of public outcry on social and other media. However, Minister Nicolette Henry with responsibility for Culture, Youth and Sports has offered several reasons for the decision; chief of them being security.
"In the past when the procession started at the junction of Camp and Church streets, children were not included but as of last year a decision was taken to add a children component to the parade, hence, the length of the route had to be made shorter to accommodate them as a more youth-friendly approach," Minister Henry explained.
Explaining the choice to use Brickdam as the main carriageway for the parade, the minister posited that it was the first road paved in Guyana's history and the movement was to treat with the limited space at the starting point and the bottleneck of costume bands not being able to pass the Irving and Church Street section and farther along.
However, chief above the reasons posited is the safety risks and concerns expressed by sections of the national security agencies on Church as well as along Irving Street. "From a security point of view this route is better controlled. It's more of an issue of safety and security."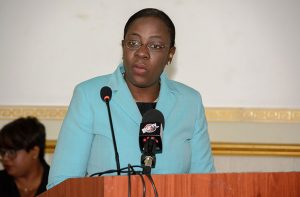 Further, the minister said: "we did not just make the decision by ourselves and based on feedback we have been able to conclude that the new route offers the best view for more persons to see the displays from the safety of the stands at Durban Park."
Those stands can accommodate as many as 30,000 patrons comfortably in addition to those who would wish to view the procession from the 1763 Monument Square.
When asked how the public and corporate citizens stand to benefit as well as the small man who 'hustles' on small trays, etc. from this route change, the Event Coordinator Lennox Canterbury assured that, "there is adequate vending space at Durban Park and the Square of the Revolution" as was proven during the 2016 Jubilee Parade.
Further, with this arrangement, shut-ins at the Palms have no need to come out on the road but can instead enjoy the event from the safety and comfort of the institution's compound. On the subject of picnicking, Canterbury said such activity happened on the route, at the Square of the Revolution and Durban Park as well as along Homestretch Avenue where vending can be done.