The transformation of traditional infrastructure and neglected spaces around the country aim at more efficient resource use, and contribute to a Green Economy. These measures link with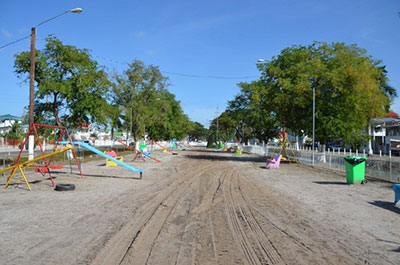 the social pillar of the Green Economy concept. A Green Economy aims for people to feel included and secure in society. In simple terms, people are able to have a decent standard of living by having access to education, health services, jobs etc.
Often, people think of the Green Economy only in terms of its environmental and economic aspects. However, it is by no accident that the United Nations Environment Programme (UNEP) in its definition of Green Economy puts human well-being and social equity first. After all, the whole reason for taking action to reduce environmental risks and safeguard the ecosystem is to benefit people now and in the future. As such, the Green Economy not only looks at low carbon development but also at resource efficiency and social inclusiveness.
Social inclusiveness, is a two-way street, along which people must not only take but must also give. So how can you give to transform undeveloped opening spaces in urban areas? What will you get by giving to make our spaces green? It is a fact that neglected spaces encourage illegal dumping and illicit activities. It is also true that many countries around the world are investing big in transforming land area that was once underdeveloped into green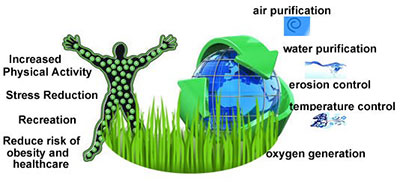 spaces.
Green spaces
Green spaces are areas generally set aside for recreational or aesthetic purposes in an urban environment. These can be parks, community gardens, playgrounds, seating areas etc. Community green spaces are places to experience the climate and the natural world. Unfortunately, in modern urban society, community green spaces are often taken for granted. Also, green spaces that do exist, are sometimes neglected and under-managed, causing a decline in the quality of the habitat and low public access.
Benefits
By now, you should realize that the word "green" signals good things not just for the environment and its ecosystems services, but also for the socioeconomic component of sustainability. Let's take a look at just a few of the benefits that green spaces provide.
Filter Air – Green spaces filter pollutants and dust from the air.
Shades and Cools – Trees in green spaces provide shade and lower temperatures in urban areas.
Protect soil – The vegetation in green spaces hold the soil fast, reducing reduce erosion of soil. This keeps our rivers and canals free-flowing and not clogged up with soil.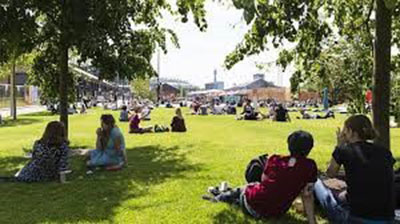 Saves water: Green spaces slow the runoff of rainwater; this slowly filters down into our aquifers where it is stored and slowly released to sustain our rivers, forests, pastures and fields.
Inspire – Green spaces provide inspiration and reduce stress; many artists take ideas from green spaces for their work. They also provide a place for you to relax and enjoy your leisure.
Meeting place – Green spaces enable you to share in a local resource, enabling you to become involved in taking care of your natural environment and to make new friends.
Outdoor classroom – Green spaces are an outdoor classroom, waiting to give an opportunity for training, volunteering and learning.
Wildlife Habitat – Green spaces provide a habitat for wildlife such as, birds and butterflies and frogs and add to the aesthetics of the local landscape.
Sports – Green spaces are ideal for holding community sports and for kicking your fitness into gear through walks and jogs.
Creating a Green Space in your community
Now you know about the many benefits green spaces provide, you should be encouraged to join in on the act of Greening Guyana one space at a time. As you think about creating a green space in your community, here a few tips and steps on how to create a green space:
Step 1. Find a suitable site for new green space
Having a suitable site should be your first task. You will need to do some research to see if the site may have any overhead cables or pipelines that would restrict your project. This means that you should make checks with utility companies. Also, try to find out previous land use to ensure it is safe for future users.
Step 2. Speak to experts
Once your group has found a suitable site, get in touch with organizations who can give advice and support to your green space project. Get the necessary approvals. The Environmental Protection Agency would be willing to assist with knowledge and guidance. We will also be happy to provide you with names of relevant organizations that could help.
Step 3. Funding
At an early stage, you will need to consider how much your project will cost. You may then need to look for additional funds to support your project. Try creating a detailed plan of the cost for your project, then look to approach potential funders. It would be good to ensure that your group is registered and recognized, for transparency and accountability purposes.

Step 4. Maintenance of the site
This needs to be considered from the very beginning. You may choose to do this through local volunteers, or to pay somebody; you may even get help from your local authority. It is really important to develop a plan for this. Approach your local government organs like you NDC's and RDC's and other similar groups in your community.
Step 5. Design
A good design is essential and will maximize the use of any new or existing site. Any design of a community green space, or change to an existing green space, needs to represent and involve all users and potential users of a site. Like always, we here at the EPA will be happy to assist you with creative and innovative ideas.
Step 8. Initiating and promoting the project
Once you have successfully planned your project, and secured enough funding to carry it out, you can then start to implement your project. As a group you might also like to celebrate the start of your project with a community event or family fun day; this will get people on board and raise awareness of the project.
So now you have the zest and the know-how, on how to make your environment a better place by creating green spaces, we at the EPA would like to hear and see how your efforts are coming along. So feel free to give us a call on 2255471 or post your ideas and picture and ask questions via our facebook page @ Environmental Protection Agency Guyana. Once again, we are always happy to provide assistance and guidance in any way we can. So let's continue to make Green Guyana – one space at a time!
C/O EIT Division, Environmental Protection Agency, Ganges Street, Sophia, GEORGETOWN, or email us at: eit.epaguyana@gmail.com