SOUTH American Youth Championships record-holder Jason Yaw, and medallists Chantoba Bright, Tyrell Peters and Daniel Williams are among a team of 37 athletes, handpicked by the National Sports Commission (NSC) to be part of a National Elite Camp that will begin in January of next year. The 37 athletes, of which 32 would have been selected because of outstanding performances at the recently concluded National Schools Championships, are expected to be groomed with the aim of preparing them for the 2017 edition of the prestigious CARIFTA Games. The squad breaks down to 20 boys and 17 girls, with age categories ranging from the Under-14 to the Under-20.
The athletes are sourced from all across Guyana, taking into consideration athletes from as far as the Rupununi and North West areas. There are also athletes from Berbice, the East Coast and West Bank of Demerara, and of course the athletics hub of Linden and Georgetown.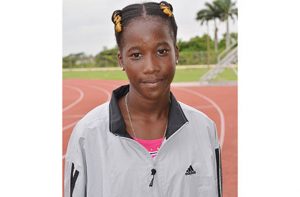 CARIFTA Games silver medallist Natricia Hooper also made the cut, as did sprinting stars Kenisha Phillips and Deshanya Skeete, and distance athlete Claudrice McKoy and Joanna Archer. They are all on the Girls' team along with Bright.
Others on the distaff end are Iyonte Phoenix, Princess Browne, Yesinia Andrews, Kissanna Glen, Cassie Small, Toyan Raymond, Denita Jackson, Maria Urquhart, Kezra Murray, Avon Samuels and Kelanie Griffith.
In addition to Yaw, Peters and Williams, on the Boys' squad there are Orvil Daniels from Rupununi and Joshua Williams from the North West, as well as Joel Williams, Tyrese Wharton, Loneil Marks, Nicholas Daw, Jermaine King, Joshua Williams, Murphy Nash, Godwin Humphrey, Samuel Jordon, Samuel Lynch, Compton Caesar, Delroy Leitch, Ruel Chester, Linton Mentis, Stayon Williams, and Linden's Matthew McKenzie.
The initiative is the brainchild of NSC Commissioner Edison Jefford, who made the decision to identify the athletes based on their performances at Nationals.
The NSC will be collaborating with the Ministry of Education, Guyana Teachers Union (GTU) and Athletics Association of Guyana (AAG). The Guyana Olympic Association (GOA) is also expected to be approached to be a part and support the initiative.
The athletes are expected to come together every weekend from the point of commencement for training and development. All transportation and nutrition needs of the athletes are expected to be attended to during the programme.
"We have to fund this; we don't want our athletes having to worry about transportation, meals, nutrition, or those things. I think it's time we end that era of sports management in this country. We have to end that struggle. We need support from every sector, AAG, the NSC, the Government, the GOA. Every stakeholder has to support this initiative for it to succeed in the way that it should." Edison said.
Coaches being considered to take charge of the athletes' training include Julian Edmonds of the Running Brave Athletics Club and Mark Scott from the Police Progressive Youth Athletics Club as well as Wanda Richmond, Johnny Gravesande from Linden and Rawle Griffith.