TELECOMMUNICATIONS provider, Digicel Guyana, launched its Christmas campaign – #GetGifted – at Giftland Mall on Thursday afternoon, where pupils of the Gifted Hands Centre were feted and met Santa Claus, who arrived bearing gifts.
More than 30 physically challenged children were hosted by Digicel during their Christmas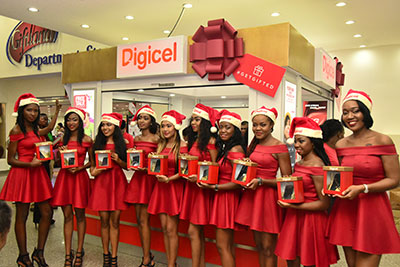 promotion launching which boasted significant reductions of prices on handsets for the season.
The Gifted Hands Centre was established four years ago by founder Marcia Smith, whose son has a learning disability and with limited options she thought it best to open a school for disabled children.
Head of Marketing, Jacqueline James, said #GetGifted was built on the premise that the Christmas holidays is said to be the happiest time of the year – all about great gifts, quality family time, joy and happiness.
She added that the flipside is the hustle and bustle to find the right gifts for loved ones and friends, which at times turn out to be bad gift choices – and that is something that many of us can relate to.
However, with the launch of Digicel's #GetGifted handset promotion, you can gift yourself or your loved ones that perfect cellphone for the holidays.
James told the gathering that with every smartphone purchased, "you will receive a Value Bundle of a one-week 4G Data Plan with over 900MBs, inclusive of 30 minutes Talk and 30 Text Messages to any local number absolutely FREE."
She stated that customers will also be able to rollover their unused data and talk and text once they renew their Value Bundle Plan.
James said the campaign comes on the heels of a tongue-in-cheek Christmas song, "Gifted," which was released by the company's Chief Speed Officer, Usain Bolt, on his social media pages. The heavily auto-tuned song immediately became a viral hit, racking up over 6.5 million views just days after its release.
"This holiday, it's all about playing with the notion of being gifted – from being gifted by Usain Bolt's Christmas song to gifting our customers with better products and services; or gifting kids with the most memorable Christmas – we know what our customers want and that's what we are giving them," said Jacqueline James, Head of Marketing for Digicel Guyana.
Meanwhile, Retail Sales manager Richard Dass said that with more than 20 handsets to choose from, customers can get up to 50% reduction on selected handsets which come with a one-year guarantee.
He related that some of the handsets include, the popular Samsung S7, Samsung S7 Edge, Samsung J10, the Digicel range DL1 Plus and D1 LITE, as well as the Alcatel, Huawei and Azumi brands.
Dass noted that the get #GetGifted Christmas promotion has handsets and prices to suit every lifestyle and pocket.
He said, "You can find a phone that matches your lifestyle and personality at a price that suits your budget. #GetGifted will keep you on the go and connected to Digicel's superior network this Christmas.
Gifted Partnerships
Through a partnership with Samsung, the campaign will see Digicel leveraging across digital and mobile platforms ensuring that customers are gifted with everything they need,including better deals on the amazing Samsung Galaxy S7 and better connectivity from the most reliable network in the region.
Gifted Kids
Central to the #GetGifted campaign is giving back to children across the region with its Gifted Kids initiative. During the launch on Thursday, students of the 'Gifted Hands Special Needs School, were treated to gifts from Santa Claus, ice cream and goodies. This initiative will be spread across the Caribbean and Central America in all of Digicel's 32 markets. Through the Gifted Kids – Christmas Cheers, Digicel's employees will bring the love and joy of the festive season to kids by feting and treating them to toys and a host of entertaining activities. Digicel will be taking their #Gifted Kids – Christmas Cheers across Guyana by visiting Linden, Berbice, Essequibo and Georgetown.
Digicel Ambassador Curtis "Casual" Armstrong was present at the event on Thursday and he highlighted the importance of giving back to the community and to spread cheer during the season.
The Parkside Steel Orchestra was in house belting out some popular renditions which entertained the large gathering.