HOSTS Guyana Jaguars made a brilliant start to their title defence when they beat the Jamaica Scorpions by 181 runs in round one of the Regional Four-Day Championship which ended yesterday at the Guyana National Stadium.The contest was not a cake walk for the defending champions, after middle-order batsman Jermaine Blackwood scored a defiant half-century to ensure the game went into the final hour of play.
However, the hosts' left-arm spinners spun webs around the Jamaican batsmen for the second time in three days.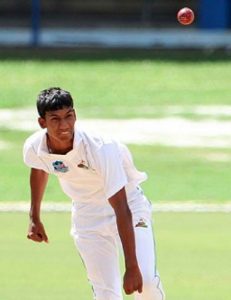 Gudakesh Motie claimed 4-35, while Veerasammy Permaul took 3-63, as the visitors were bundled out for 147. Pacer Keon Joseph played his part, claiming 3-18.
Blackwood and Chadwick Walton scripted a spectacular rescue act for the Jamaica Scorpions, with a brilliant 54-run sixth-wicket stand, after they were struggling at 38-5, at one stage.
Blackwood led the resistance with a classy 96. He batted for 247 minutes and faced 212 balls, inclusive of 13 fours and two sixes.
However, had Leon Johnson held the chance offered by Blackwood when he was on 41, the formalities could have been much earlier.
Resuming on 9-2, Joseph along with the spinners made instant inroads. With 320 needed on the final day, Joseph, bowling with pace and accuracy, sent back opener Trevon Griffith in the day's third over for 13.
With the Providence pitch already providing some assistance to the spinners, captain Leon Johnson introduced spin within the first hour of play and Motie was rewarded with the wicket of overnight batsman Jason Dawes (3), while Permaul removed Andre McCarthy (2) leg-before-wicket.
Blackwood and Chadwick Walton then joined forces together and took the score to 47 when the heavens opened up at 11:00hrs. No play was possible until 14:10hrs.
When play finally resumed after excellent work from the ground staff, the visitors were facing an uphill task.
They had to survive 42 overs to avoid the ignominy of a huge defeat and the duo did exceedingly well as they denied the hosts any further pleasure for 90 minutes. Blackwood was more fluent than his partner, and raised his half-century off 140 balls.
However, Motie broke the stubborn stand when he trapped Walton leg-before-wicket for 13, with a faster delivery, leaving the fight up to Blackwood.
The visitors were further jolted when Drval Green was trapped plumb in front to Permaul without scoring, and Damion Jacobs was taken at the wicket off Permaul for 10.
Blackwood, in company with Nikita Miller, provided some defiant response before Motie trapped the latter lbw for 4.
With eight overs remaining in the match, Marquino Mindley joined Blackwood, but Joseph was reintroduced into the attack and immediately had Blackwood taken at the wicket, with the second new ball.
The Guyana Jaguars will now travel to St Kitts for their second round game against the Leeward Islands Hurricanes from Friday at Warner Park.
JAGUARS 1st innings 298
SCORPIONS 1st innings 208
JAGUARS 2nd innings 238-4 decl.
SCORPIONS 2nd innings (target: 329 runs)
(o/n nine for two)
J. Campbell b Joseph 1
T. Griffith b Joseph 13
D. Thomas lbw b Permaul 3
J. Dawes c Joseph b Motie 3
J. Blackwood c wkp. Bramble b Motie 96
A. McCarthy lbw b Permaul 2
C. Walton lbw b Motie 13
D. Green lbw b Permaul 0
D. Jacobs c wkp. Bramble b Motie 10
N. Miller lbw b Motie 4
M. Mindley not out 0
Extras: (nb-2) 2
Total: (all out, 85.2 overs) 147
Fall of wickets: 1-2, 2-8, 3-19, 4-32, 5-38, 6-92, 7-93, 8-119, 9-133.
Bowling: Hooper 10-3-18-0, Joseph 9.2-3-18-3, Permaul 29-10-63-3, Reifer 7-1-13-0, Motie 30-15-35-5.
Points: Jaguars 17.8, Scorpions 4.5.
Player-of-the-Match: Veerasammy Permaul.