Despite countless challenges, singing sensation Guyana's Poonam Singh outshined 25 international delegates at the recent Miss Global International 2016 pageant in the Dominican Republic.
Equipped with a master plan and fierce determination, Poonam not only secured the first runner-up position for Miss Global International 2016, but also managed to be awarded with many other accolades (special awards). These accolades included Best Personality, Best Evening Gown which was designed by House of Person- Quinton Pearson, Best National Costume which was designed by Nachle Designs- Melicia Partab, First Runner up for Maja Dress of the World which was designed by Shivanie Latchman. She also was among the Top Three in the talent segment.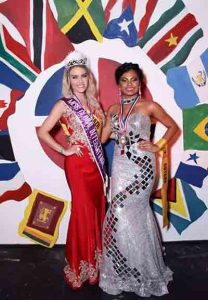 CHALLENGES
In the Dominican Republic, given her limited knowledge of Spanish, communication was a huge barrier, but with constant effort and hard work she was successful on getting over her points on a daily basis.
She said that she is a living example of the statement "nothing good comes easy" as she clearly remembers almost giving up on the night of Maja Dress competition while she was preparing backstage and the most horrifying thing occurred.
The entire zip of the dress was damaged and the sad part was that there was only one minute left to go on stage.
Luckily, her National Directors quickly used the Guyanese tactic of safety pins to fix the dress together, which clearly reminded her of the slogan "Pin An Pan Am" and she giggled with relief.
She went on to say after all this that winning this segment was never on her plate.
"At the end of the night all the young ladies were on the stage beautifully dressed, and when the finalists were called I heard a strange sound like my name being announced, in which I was presented with a medal and all the girls cheering in happiness. I was clueless." She later discover that the award was for First Runner Up for Maja Dress.
On the coronation night, another similar challenge was conquered by the safety pins. This time the zip's head of the evening gown broken off but a safety pin with four pairs of hands, of Guyanese and Jamaican decent, managed to get the zip up.
She has no problems, then, adopting the name "Pin An Poonam."
HIGHLIGHTS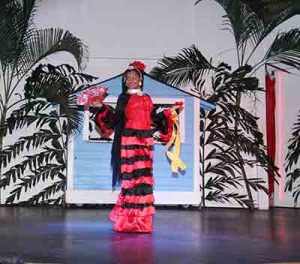 "If you'd asked me a year ago what I think about pageantry, I would have said to you nothing, because it was never on my bucket list. Today I can proudly say, pageantry is a magical journey.
"Miss Global International 2016 created a platform for me to unite with some of the most beautiful faces and souls of the Globe, whom I can now call my pageant sisters. The memories we have shared will last for a lifetime.
"Pageantry allowed me to recognize a different side of my potential and also gave me a higher boost of self-confidence, one that will remain with me for a very long time."
Among the highlights, Poonam was deemed the best dressed delegate for the duration of the pageant and always had her love for Guyana and her charity cause at the forefront. Because of this, many new interests of visiting Guyana was created.
Poonam wishes to thank the entire country for having faith and supported her. She would also like to thank the media for the generous publicity, her sponsors for believing in her and to her Miss Global Guyana team for their hard work towards her journey.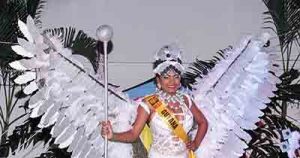 WELCOME HOME PARTY
The Miss Global International Guyana Director, Mrs. Melicia Partab- Alli explained that the team has planned a grand welcome home party to celebrate the success of Poonam and the franchise.
This will be in the form of an evening of karaoke and dance at the Vintage Wine Lounge, on Lamaha St., on Sunday 13th November, 2016, from 07:00pm. Tickets for this event cost $2,000 and can be uplifted at Amanda's Bridal Guyana (Vreed-en-Hoop & Regent Street), the Vintage Wine Lounge, or any committee member. For further details please contact telephone number 592-688-0036/ 592-680-5999.
Best National Costume
The costume, "The Guyana Guardian" was created to showcase Guyana's strong will of spreading immense purity and peace amongst its nationals and countries globally. Handmade feathers of glitter foam, feathers, pearls, gems, glitter amongst others, adorned this masterpiece which was designed by Mrs. Melicia Partab- Alli of Nachle Designs.
Best Evening Gown
The Best Evening Gown was created using sliver sequins material which was crafted in a unique design to fit Poonam seamlessly. The highlight of the dress was the rich architectural and creative application of hand designed mirrors which was designed my Quinton Pearson- House of Pearson.