SEVERAL persons who were recognised for their exceptional service to the country were bestowed with awards on Thursday afternoon by President David Granger.Speaking at the 2016 Investiture Ceremony at the National Cultural Centre after pinning the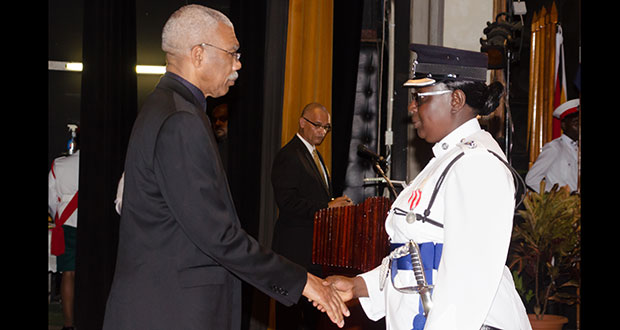 awards to the recipients, President Granger said the awards promote a sense of national identity.
"We must not neglect these honours," he said, adding that Guyana will continue to pay homage to its citizens.
Acting Chancellor of the Judiciary, Justice Carl Singh, said the ceremony represented a two-tiered event, which began when the names of those who were recognised by the Head of State earlier in accordance of the Constitution of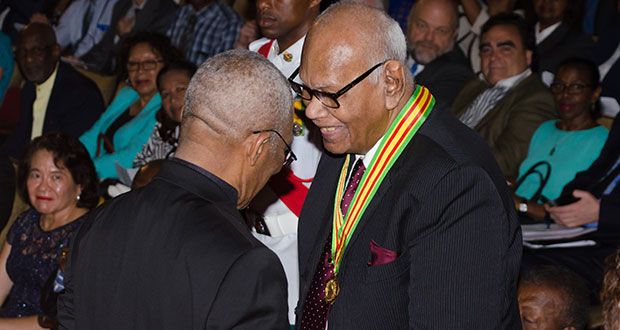 Guyana.
He said at the inception, there were only the Order of Excellence, the country's highest award and the Medal of service.
In 1976, the Order of Roraima, the second highest national award was implemented in accordance with constitutional amendments.
Justice Singh said that a number of awards are provided to persons in the public and private sectors.
The awardees include Senior Counsel Rex McKay and Speaker of the National Assembly, Dr
Barton Scotland, who were both conferred with the Order of Roraima.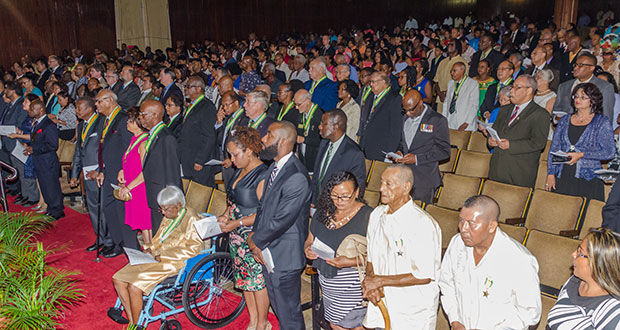 Inderjeet Beharry of the Edward B Beharry Group of and Companies and Roman Catholic Priest, Father Malcolm Rodrigues, received the Cacique Crown of Honour.
On the occasion of the 50th anniversary of Guyana's independence, National Awards were announced for 86 persons.
Barbados Prime Minister Freundel Stuart was announced as an awardee of the Order of Roraima for his dedication and commitment to the Caribbean Community and his unflinching support for Small Island Developing States.