By Telesha Ramnarine
FOR Carollene Leza Singh, pursuing the arts in Guyana in the form of acting is her primary passion. Nevertheless, she has taken a step back in the field, and has chosen to concentrate her efforts elsewhere in the working world.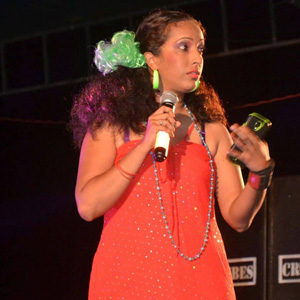 Now in the marketing field, Leza, well-known on the stage as 'Radica from Parika Backdam', has even thought of getting into film school overseas despite the high tuition fees. "But what will I come back to Guyana and do with a degree," she ponders.
Over the years, Leza, 28, has not been the only one to complain of how local artistes are treated by their fellow Guyanese. One of the main problems has to do with the amount of time and energy invested into acting by these individuals who are not, in turn, satisfactorily compensated.
DOESN'T PAY
"Acting doesn't pay. It's not feasible. You have to live and you have to make a sacrifice," she said in the context of her not pursuing her primary passion and focusing on a different job.
To her, local artistes are not taken seriously.
To compound the problem, Leza said the stage also has a lot of politics and backbiting. "But I believe that if theatre is to work in Guyana, we have to come together. We all complain about the same things and yet we turn around and do the exact thing to each other."
Leza is pleased when people show appreciation for the work of local entertainers because she said the acting fraternity at present is quite difficult to endure. "Obviously you are not paid enough for what you do because when you calculate the time it takes to go to rehearsals; you have to turn up for rehearsals practically every day for acting. If you calculate your transportation, food for dinner, and then the amount of money you get, it doesn't work out. But we do it because we love the arts and we love to do it. So that's the only reason I'm in it; for the love of it," Leza related.
She said the production work in Guyana is very difficult. "The expenses are exorbitant. Guyana is starved for entertainment. We are more foreign-minded than anything else. The foreign artistes come in and we flock them and when our local artistes are there we don't show them any appreciation."
Nevertheless, Leza believes that one can achieve great things with hard work. "Work for what you want. Nobody else will give it to you. I believe if you want something, go after it. There's nothing like a free lunch; there is always strings attached to something. That's deep. It's true though."
Leza is of the view that a good comedian would have excellent timing and would need to know just how to put over his/her jokes. He/she also has to be spontaneous and know how to make adjustments on stage, especially with stand-up comedy.
"At times you write something and expect people to laugh and then they don't and then you have to quickly adjust. I think very quickly. When I am on stage, I don't think too much. It just comes. It comes naturally. It's probably a gift," she said.
Furthermore, she likes to keep it "fresh" on each occasion that she performs so that her audience will never hear one of her jokes repeated by her.
Known especially for using an Indian Creole accent, Leza is proud of the fact that she is the only Indian female in Guyana at this point who performs stand-up comedy. Aside from this, her work can be seen in the popular 'Nothing to Laugh About' and 'Uncensored.'
Radika attended Greenwich Park Primary School and after writing Common Entrance, went to St Rose's High where she also completed sixth form. She pressed on to the University of Guyana where she obtained a degree in economics.
She worked for relatively short periods at the Ministries of Finance and Home Affairs before auditioning for Mori J' Von Comedy Jam which she credits with bringing her out into theatre.
Leza doesn't know why people appreciate her humour. "I think people just like stupidness. I try to be realistic with my comedy and most of my jokes come from what actually happens and I don't even think people know that. They think I'm just talking stupidness on stage. Most of my jokes are true. It might be slightly exaggerated but most are true. Its things people tell me or things I would have experienced growing up."
Leza would definitely pursue acting in full should the concerns of local artistes be addressed.
She is all set for 'Uncensored' which will be on at the National Cultural Center on December 26 and 27.