By Dominique Hunter
WE have all heard it before, perhaps more times than we would have liked. I would venture even further to say that at this point, it has become one of those statements that provokes an eye roll every time a friend casually remarks, "Beauty is in the eye of the beholder," whenever our tastes aren't quite aligned with theirs.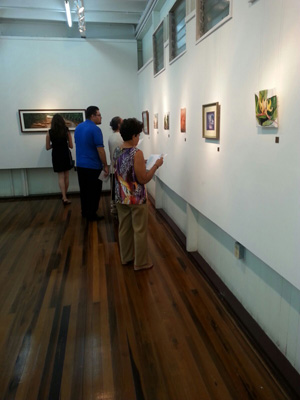 Regardless of our individual responses to that statement, polite or otherwise, it makes for an interesting framework to consider the recently concluded 27th annual exhibition held by the Guyana Women Artists' Association (GWAA) at the National Gallery of Art, Castellani House.
ORIGIN
Before giving a brief overview of the exhibition, it is important to examine the origin of the statement, "Beauty is in the eye of the beholder," and its relevance to the discussion.
Although scholars have dated similar expressions as far back as the 3rd Century BC, it wasn't until the 19th Century that the statement made its first appearance in print. In fact, it was an Irish novelist, Margaret Wolfe Hungerford, who has since been credited with coining the statement. And as overused as it may seem to be in the 21st Century, there is still value in the reading of it centuries later.
More often than not, it seems to be the go-to statement for explaining away a particular kind of aesthetic or quality that is somehow thought to be deviant from what is considered popular or socially acceptable at the time.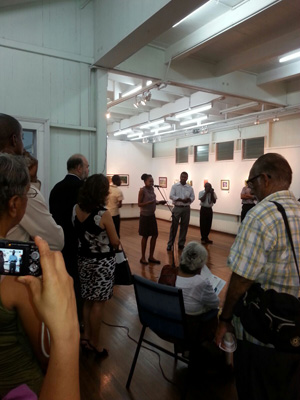 But how often is the statement really considered? There are a number of factors to contemplate within the statement itself. A casual assessment presents three seemingly straightforward components. There is the "eye", the physical object that makes sight possible; the "beholder", the person whose lived experiences shape their vision, what the "eye" sees and how it is seen; and finally, "beauty", an ideal molded by the same experiences that inform the "beholder".
RATIONALE
Now that we have established the parameters of each component, the next question is perhaps why? Why is it so important for us to be aware of these, and how is it relevant to the viewing of a work of art?
Implicit in the statement is subjectivity. With regard to any topic, every aspect of the statement can be challenged and deconstructed a million times over, presenting new readings each time. And it was precisely that which was done by a group of Guyanese women artists at their most recent exhibition.
Under the theme, "True beauty", a modest group of seven women has produced various bodies of work that engaged distinct perspectives and, in most cases, marked the continued exploration of interests that have shaped each artist's style over the years.
O'Donna Allsopp (GWAA's most senior exhibiting member), Aiesha Scottland, Anna Correia, Tara Bentinck, Myrna Bernard, Jennifer Gibson and Dominique Hunter have put together an exciting exhibition of more than one 100 works of art to mark the association's 27th year of exhibiting in Guyana.
INTERRPRETATION
As expected, the interpretation of such a theme produced a varied and seemingly disparate aesthetic within the gallery space. And perhaps this could be linked to a number of factors, including (but not limited to) age, geographic location, skills acquired, and the type of art education available to each person.
Nevertheless, it was especially interesting to view each artist's rendering of the exhibition's theme, some obvious and others not so much.
Some artists chose to marvel at the textured beauty found in Guyana's hinterland regions (Allsopp), while others found beauty in the woman as a Madonna figure, as well as her role within the family unit (Correia).
There was beauty to be found in the layered processes, as well as the outcomes, in the case of Gibson's intricate batik paintings, and Bentinck's beautifully made textile pieces.
Scottland's mixed-media drawings hinted at moments of self-reflection and contemplation of the recent revival of the natural hair movement. Bernard was the only artist to use her own photography as the foundation of her strikingly abstract digital artworks.
And while there were photographic elements in Hunter's mixed-media collages, those were all found material. She instead chose to undermine the idea of "true beauty" by employing popular advertising tropes found in magazines in an attempt to critique the manner in which the female body continues to be idealised and "sold".
Regardless of the technical approach, upon closer observation, the content of each work of art on display at Castellani House was grounded enough to ensure a cohesive representation of the theme, "true beauty".
The result was a delightful exhibition that was well received by patrons of the National Gallery of Art. (Dominique Hunter is an independent visual artist who recently graduated from the Barbados Community College with a Bachelor of Fine Art (First Class Honours)