REMEMBER 'Rhythm Nation' on Channel 9 with its gorgeous host Dimple Singh? Approximately 12 years ago, Dimple migrated to the Unites States (U.S.), but has continued Rhythm Nation Entertainment there.
Today, though leading a successful life abroad, Dimple said Guyana has always remained close to her heart.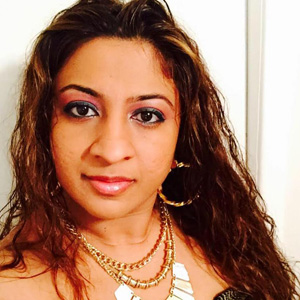 The former local TV personality, now Dimple Singh-Willabus, is in the country promoting her 8-year-old daughter Anaya's book. The young writer launched her book, 'The day Mohan found his Confidence' at the National Library a few days ago, and it was there that the Chronicle spoke with Dimple.
Though not naming the specifics of an intended project, Dimple revealed plans to continue working with the Government of Guyana.
"I always have Guyana at heart. Though I have been working in the U.S. for 12 years, I always have Guyana at the back of my head. I am always Guyanese no matter which part of the world I go. I could have taken my daughter to the islands (to promote her book), but I chose to bring her home," Dimple said.
To her, returning to live in Guyana one day is definitely not off the cards. "It is definitely possible for me to come home back if I can find a good job with the right pay. My husband and I had this conversation," she laughed. Her husband Winston is also a Guyanese who is now a Sergeant with the Police Force in the U.S.
ENTERTAINMENT INTEREST
Dimple was born to caring parents who have instilled certain values that have stuck with her to this day. The family lived at Princes Street, Lodge, in Georgetown, before moving to the United States. The family has always been into the liquor and grocery business. This makes Dimple a third generation liquor store owner since she has a business of this kind in the United States.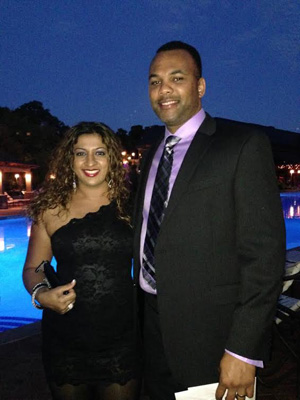 Dimple attended D'Urban Street Primary before pressing on to St. Joseph High School. After moving away, she continued with her studies and today has a 'Masters of Science' in Media Studies and a Bachelor's Degree in Broadcast Journalism with a Minor in Marketing and Economics.
Growing up, Dimple recalled that she has always had an active interest in the entertainment industry. "I was always involved in entertainment; in modelling, dancing, or some kind of elocution competition in school; always actively involved in sports and academics. All of my five years in high school, I played volleyball. I was captain of the volleyball team at one point.
"As I was growing up, I was always in entertainment, in some form. So I always wanted to be in entertainment. Entertainment was always intertwined in my blood. It was something I knew I was good at; public speaking and so forth came naturally to me."
Dimple has never forgotten the people in Guyana who truly impacted her life. "I still maintained communication with most people I've been in contact with while I lived in Guyana like GuyEnterprise, Stan Gouveia, Vanda Radzik, and a list of others. I know these people for over 18 years."
RHYTHM NATION
'Rhythm Nation' was on for almost 10 years before Dimple migrated to the United States. She was just 18 years old when she began on television what became a successful show that was loved by many, especially the young generation.
The show, a pioneer programme for Hip-Hop (Rap) and R&B music, never moved from Channel 9. "It was the first show of its kind. I was the first female to have a live TV show at the hour and the time at that time, in the 1990's, 1996 to be exact," Dimple proudly recalled.
"A lot of people don't know about it because it's a different generation but the people who are in their late 20's, early 30's, would know of the programme," she noted.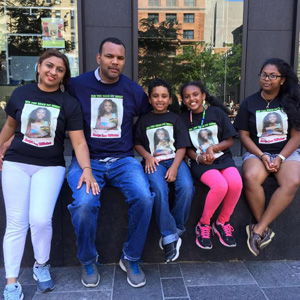 Rhythm Nation had set the platform for many more entertainment programmes and activities. "Through Rhythm Nation, we promoted local artistes, topics of interest to people, educating them about HIV, etc."
Dimple was also a part of Entertainers Making a Difference (EMAD). "I remember going around with colleagues to raise awareness of various issues."
Dimple's career had reached the pinnacle of success in Guyana but she said for some reason, she no longer felt stimulated at this point.
"So I decided to just try something new. My parents were in the U.S. for many years and always encouraged me to go and I never did. So 12 years ago, I decided to go.
"I still have Rhythm Nation Productions in the United States. My older daughter and I are business partners. She does most of the work. We do more of an international business because we work with hip-hop and reggae artistes. We do a lot of music videos for them. We also do TV commercials," Dimple explained.
While abroad, she has also worked at CBS Network as an assistant to the editor. One of her jobs there included writing for the online version of CBS.
At present though, Dimple said she is going slow on her career so as to really be there for her children. Though her older daughter Chantelle is already educated and in the working world, her two younger children Anaya and Brandon still very much need her time.
"At present, I take a back seat in my career. I could have been much further along with my career but I have chosen to put my children first. I don't want to be extremely successful and then my children are suffering in school. Their academics and schooling and life are more important to me than anything else. So I have pretty much slowed down to focus on them. They need my time right now and I believe I am the best person to take care of them and raise them. I want to ensure my children are healthy and educated. My career takes a backseat for now. I will see about it when they get a bit older. I am trying to make sure they are raised the proper way."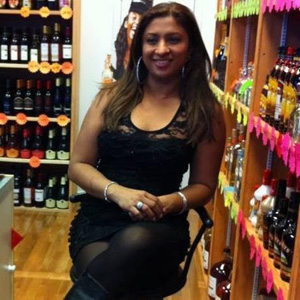 Dimple believes this view of her children is due to the way her mother treated her and four siblings while they were growing up. "Dimple can be described as a woman who was loved by her parents and got the best kind of support and nurturing. My parents always put us first and through the years, I have grown into the woman I am. My dad also taught me how to be a successful businesswoman," she said.
"Never forget where you came from because it can create a platform for where you are going. It is important to be our brother's keeper and foster the community spirit," urged Dimple.

By Telesha Vidya Ramnarine